The 'Best Of 2020' Book List That Every Parent (And Teacher) Needs To See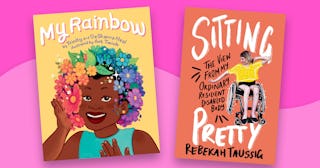 Scary Mommy and Bookshop.org
Do you have a budding reader or a bookworm for a kid? Maybe you have a reluctant reader or child who hasn't quite found the books that reflect their inner world? Well, if you're on the lookout for books that represent the world in which we live a little more justly and accurately, or just want more opportunities to discuss racism or the patriarchy, have we got the perfect list for you.
For the sixth year in a row, the University of Pennsylvania Graduate School of Education (GSE) has compiled a list of the Best Books of 2020 for Young Readers. Started in 2015 by Penn GSE professor Ebony Elizabeth Thomas, the children's literature expert highlighted authors and illustrators who realistically and empathetically depicted issues like race, gender, ability, religion, class, and sexuality. Thomas emphasized stories of love, joy, loss, and resilience that would speak to historically ignored children in the notoriously whitewashed world of children's publishing.
After 2015, Thomas's Humanizing Stories research team (the Superfriends) helped out by reviewing books throughout the year and deciding which belonged on the annual list. This year, the team was steered by Rabani Garg and Christopher R. Rogers and the book choices reflect what the team thinks our children need now to help process this painful and uncertain year. They are books that dare hope for a more inclusive and just future, spurring us to transcend the endless cycles of systemic harm and marginalization.
Picture books
The Superfriends selected picture books that "illustrate the values and cultural traditions of resistance that we must hold dear while documenting the loving ways we must strive to create beauty in the everyday." These picture books are guaranteed to capture your little one's heart and soul.
Daniela's best friend is Evelyn Del Ray — and Evelyn is moving away (as the title suggests). The story follows their tender last moments with each other as they exchange promises of friendship.
My Rainbow by DeShanna Neal & Trinity Neal, illustrated by Art Twink
Based on the real life relationship of Trinity and DeShanna Neal, the story focuses on how DeShanna tries to honor the wishes of her autistic, trans daughter Trinity. Trinity really wants rainbow colored long hair and DeShanna, hand makes a rainbow wing when she cannot find one to buy.
This board book discusses the importance of Nibi or water in Anishinaabemowin (Ojibwe) and our role to love, protect, and respect it. Little babies and toddlers can learn about Nibi's different forms in both English and Anishinaabemowin (Ojibwe).
Your Name Is a Song by Jamilah Thompkins-Bigelow, illustrated by Luisa Uribe
A little girl comes home and tells her mother she no longer wants to go to school after spending all day filled with teachers and classmates mispronouncing her name. Her mother teaches her about all the beautiful names in the world and comforts her daughter.
Middle Grade
For the middle grade selections, the selection committee chose books that tackled difficult conversations about multiple forms of difference as well as brought underrepresented histories and stories to the fore.
This summer, Kaia and her friends enroll in a creative arts camp where she enters a movie making contest. Kaia hopes that if she wins, she can convince her Tatang (great-grandfather) from moving back to the Philippines.
Even though Efrén is American born, both of his parents are undocumented and as if middle school wasn't difficult enough, one day, Efrén's mother is suddenly deported. Now, he has to balance both his increased responsibilities at home and his friendships at school.
After receiving a letter on Zoe's 12th birthday from her birth father — who says he's in prison for a crime he didn't commit — she starts writing him secretly and tries to discover the truth. Not only that, she's busy with her baking internship and navigating friendship drama with her neighbor Trevor.
Mary Lambert lives on Martha's Vineyard amongst a vibrant deaf community where nearly everyone can communicate in sign language. After the death of her brother and mounting tensions between English settlers and the Wampanoag people, a driven young scientist turns Mary into a cruel experiment as he hopes to discover why there are so many deaf citizens on Martha's Vineyard.
Graphic Novels
For 2020 graphic novels, the Superfriends chose books that highlighted "how intergenerational stories, our old stories, carry us forward and bring us together." So many are surprising and a tribute to how young people can contribute to resistance and activism.
Banned Book Club by Kim Hyun Sook & Ryan Estrada, illustrated by Hyung-Ju Ko
South Korean college student Hyun Sook is ready for her college to open up her world, but when she joins an underground banned book club in the midst of a military regime, she discovers that the pleasure of reading verboten books can be quickly overtaken by fear.
Told in verse, this novel find Will grieving the murder of his brother and the burden he feels in seeking vengeance.
Tien reads fairy tales with his parents to help improve their English — but he has a secret — he lacks the Vietnamese vocabulary to tell his parents that he's gay. Meanwhile, reading the fairy tales unlocks the memories Tien's mother has of Vietnam.
Jake Hyde is determined to leave his small New Mexico town and see the ocean — though he cannot swim. Attracted to the swim team captain Kenny Liu, Jake has many secrets — including strange glowing marks on his skin when he touches water.
Young Adult
The young adult (YA) category proffers so many stories diverse in both the narrator as well as the kind of stories being told. This year, the Superfriends selected YA books that focused on the intersecting identities in which young adults' identities and experiences are rooted.
After coming out to his Muslim family, 18-year-old Amir Azadi fled to Rome, building a new life until his past catches up to him. Now, Amir is stuck in a U.S. customs interrogation room, his freedom dependent on his confession.
This memoir of collected essays from disability advocate Rebekah Taussig reflects on her life growing up as a paralyzed girl in the 90s and 2000s. Taussig processes what it means to live in a body that "doesn't fit" and provides a multifaceted depiction of her life.
Based on Louise Erdrich's grandfather, a night watchman who fought against Native dispossession from North Dakota to Washington, D.C., this story follows night watchman Thomas and plant worker Patrice, two people living in an impoverished reservation community.
After Ximena's people lose everything to a usurper who used an ancient relic which summoned ghosts, she must use her power to spin thread from moonlight to exact her revenge. When Ximena encounters friends in unlikely places, her mission becomes complicated.
For the complete list of picks, please refer to the Penn GSE Best Books of 2020 for Young Readers.
This article was originally published on