13 Comedy Podcasts That Will Have You Laugh-Crying All Day Long
by Lior Zaltzman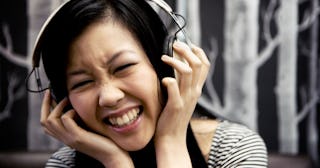 track5/ Getty Images
You need a laugh, I need a laugh, every parent needs a friggin' laugh, and not that slightly maniacal laughter that comes out of you when you just want to tear your hair out because honestly sometimes, parenting is a little too much Luckily, these comedy podcasts will inject laughter directly into your ear… veins… things.
Unwind from a long day with these hilarious comedy podcasts:
This incredible podcast is funny, but it's also so much more. The interview show with comedian Marc Maron has become one of the most beloved podcasts of all time, perhaps because of how open and genuine its host is, while still keeping things funny.
Scott Aukerman's podcast is honestly a classic. It has a host of brilliant guests discussing their lives and doing their comedic best, as interviews with celebrities and comedians are interrupted with the appearance of improvised characters. If you're looking for something really funny and quirky, Comedy Bang Bang! is the podcast for you.
This funny history podcast is hosted by Dave Anthony and Gareth Reynolds. In every episode, they explore a character or event from history, like Ronald Reagen (with guest Patton Oswalt! Yes!), Enron and American Nazi camps (yes, that was a thing). It's educational, illuminating, and will make you laugh out loud.
John Hodgman has been making us laugh with his deadpan humor since the early days of the Daily Show. In the past few years, he's been harnessing his hilarity to serve justice, weighing in on some real serious podcast trials, like deciding on whether one man's wife is decorating for fall too early, and if one woman's husband barbecues too much. He's the poor, petty man's Judge Judy, but funnier. And we love him for it.
Funny mama (and Mom star) Anna Farris hosts this comedy podcast which is full of A-list celebrity guests. Anna and her guests attempt to answer listener questions about relationships despite being — you guessed it — unqualified. But still, the advice tends to be pretty good, and really heartfelt, and let's face it, your shrink just isn't as funny as Anna and her guests.
Another super funny advice podcast, this one is hosted by three brothers: Justin, Travis, and Griffin McElroy. Get ready to snort out whatever it is that you're drinking as you listen to these three lovable fellas try to help their listeners with their issues.
If your friends were the funniest comedians in the country and also were as obsessed with the Real Housewives as you were this would maybe be what your conversations would sound like? Forget about all the other Real Housewives podcasts. This is the one! Honestly, you might love it even if you've never watched a single episode of the series.
Hosts Kid Fury and Crissle are oh-so-funny and oh-so-full of truths. These two hold nothing back. They praise black excellence every week before getting into the down and dirty of hip hop and pop culture's worst offenders. Listening to them read the life out of celebs is what your week needs.
This very necessary podcast explores some of the worst movies ever made. Seriously, they're so bad, we have to ask how they even happened. But also, they are so delightful. We're talking about classic bad movies like Grease 2, Jaws 3-D and Gigli. Paul Scheer, June Diane Raphael, and Jason Mantzoukas discuss the best and worst moments of all these movies. It's just so good.
This podcast only has four live episodes right now, but it also has the word "#buttholes" in the title so we feel a duty to add it to the list. The episodes so far are very irreverent and funny as heck — and they contain interviews with the likes of John Hamm and Bad Moms' Mila Kunis.
As you may have gathered, the podcast is hosted by the super funny and sassy Andrea Savage, the star and creator of I'm Sorry, and her take no prisoners hosting style is funny and refreshing.
Don't you wish Sasheer Zamata and Nicole Byer were your best friends? Well, now, you can kind of get your wish. Listen to the Nailed It! host and the former Saturday Night Live star dish about dating, pop culture, and lady stuff. This podcast will make you feel like a very happy silent third wheel.
The title of this podcast describes exactly what happened to comedian Jamie Morton and since 2015 he's been making podcast gold with his dad's dirty novel. Honestly, if that isn't genius, I don't know what is.
Ashley and Keri will make you laugh in our wonderful parenting podcast (we're not biased at all). Get burning vagina advice and hear your parenting confessions hilariously dramatized by the likes of Jessica Alba and Cate Blanchett. There's nothing this very funny podcast doesn't have.
Related:
13 Hilarious And Sharp Parenting Podcasts From Moms And Dads Who Get It
This article was originally published on