Teacher Assigns Best Homework Ever Before Standardized Tests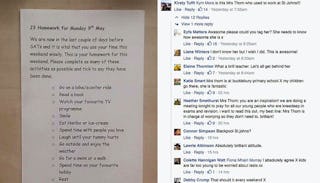 Image via Facebook
Best homework includes laugh until your belly hurts and eat ice cream
Just the thought of a weekend homework assignment can make a kid's palms sweat. But a teacher is being celebrated around the world for hers, which many consider the best homework ever. The perfect list was given ahead of standardized tests students are taking this week near London.
RELATED: How To Study For A Test So You Can Ace Your Exams With Less Effort
Mrs. Thom of Buckleberry Primary School in Reading didn't want her 10-and 11-year-old students stressing too much before their sixth grade SATs tests. SAT stands for Standard Assessment Tests in Britain, and like the standardized tests we give youngsters in the U.S., they are hated by many. About 90 percent of 10- and 11-year-old students feel pressure to do well on the tests, according to a study from the BBC. A campaign called "Let our kids be kids" was run by parents and kept thousands of kids out of school for a day last week to protest the tests.
[shareable_quote]"Mrs. Thom is in charge of worrying – you don't need to. You are all amazing and I couldn't be more proud of you."[/shareable_quote]
Knowing all of this, Mrs. Thom released a list of homework that is now going viral. Eat ice cream, rest, watch your favorite TV show, and read a book were all part of the activities aimed at calming the kids' nerves before the week of grueling tests.
The whole goal is to get the kids away from studying so they'll feel relaxed before the exams. "If you feel you have to, you may revise (study), BUT you can only do this for a maximum of one hour total," the teacher wrote in the note that was shared on the Facebook page Eyfs Matters, which is run by a teacher that shares a similar approach to teaching as Mrs. Thom. The post has been shared more than 60,000 times in just a few days and brought in more than 3,000 comments, most of which praise the homework tasks like "laugh until your belly hurts" and "go outside and enjoy the weather."
[related_post]
"What a wonderful teacher, I started to well up reading this," Facebook user Kevin Finch wrote. "I'm very fortunate – my daughter is a year 6 in Mrs. Thom's class. We have spent a happy day ticking lots of those boxes. I'm passionate about Bucklebury School, a school that believes in growing the whole child," Louise Harry commented on the post.
The best homework ever isn't guaranteed to destress the students, so Mrs. Thom included one last show of support saying, "Mrs. Thom is in charge of worrying – you don't need to. You are all amazing and I couldn't be more proud of you."
Best homework ever given by possibly the best teacher in England.
This article was originally published on