13 Hilarious And Sharp Parenting Podcasts From Moms And Dads Who Get It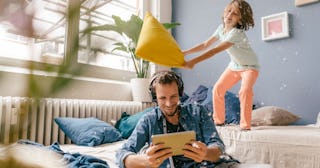 Westend61/ Getty Images
I'm going to be real: I've listened to parenting podcasts long before I had a baby. Hey, I even listened to parenting podcasts long before my biological clock started ticking — though not too long before so maybe the two are connected? That's just to say, there are some truly excellent ones out there, and they seem to be reproducing fast — seriously, there are hundreds of them.
So if you have some precious and rare time to tune the world out, or you need something to listen to while in the car after dropping off your kid at yet another extracurricular activity, these great parenting podcasts will make you laugh, cry, and nod to tried and true parenting advice.
No, this Slate podcast is not just audio of two parents fighting like I first thought. Hosted by Rebecca Lavoie, Jamilah Lemieux, and Dan Kois, three parents who come from very different backgrounds and perspectives. The three dish out some seriously good parenting advice, all the while keeping it extremely real that advice comes from people who have their own parenting fails and wins.
If you love hearing other people's birth stories, this podcast is for you. Every podcast features the birth story, or stories of one mom. From miscarriages, to C-sections, this podcast talks about every kind of birth, traumatic or uplifting all while creating a community around shared experiences.
Let's face it, as moms, sometimes things get a bit overwhelming. Each episode of this podcast is a therapy session with a mom dealing with different struggles. Hosted Dr. Alexandra Sacks, a renowned reproductive psychiatrist, each session is moving and eye-opening. You may find your own parenting catharsis in one of this amazing podcast's episodes.
The Longest Shortest Time is honestly the crème de la crème of parenting podcasts — it's also one of the first parenting podcasts. Radio producer Hillary Frank created it in 2009 after she became a mom. It's full of gorgeous, personal stories, like the story of two accidental gay parents, guided by compassionate hosts (Frank and, for a while, Andrea Silenzi). The Longest Shortest Time is going to wrap up in December of 2019, but the archive is brimming with 9 years of episodes that will be always be worth revisiting.
This podcast delves into some pretty fascinating parents and their gigs. It's not really about parenting itself, but it is very much about how parenting makes your professional life so much more challenging (like, impossibly challenging.) Some interview subjects include an aspiring rabbi who is also a rock star, the CEO of a 24-hour daycare in Las Vegas, a Muslim sex educator, and so much more.
Hosted by two funny mommas, Betsey Stover and Amanda Allan, this podcast may win the award for most relatable title. You will not find parenting advice here, but you will find validation for all the moments when, as a mom, you just wanted to leave your kids to their grocery store tantrum or go have a glass of wine (or a piece of pie).
Honestly, I want Janet Lansbury to be my mom (no offense, mom!). She's so brilliant, compassionate and her parenting advice is spot on. Also her voice is a soothing miracle. If you have a specific parenting quandary, you might find an answer for it in the deep archive of Unruffled.
As technology is changing, parenting changes with it. Luckily, we have this new podcast from two dads about the intersection of technology and parenting. Hosted by Marc Groman, a tech and privacy adviser at the Obama White House, and David Reitman, a doctor to adolescents, the two talk with teens about everything from social media to gaming to sexting. Parents of teens and preteens, this podcast it going to be a revelation.
If you grew up on Full House, you may be obsessed with Jodie Sweeten (yes, that's Stephanie! Rude!). Well, we have some excellent news, she's now co-hosting this brand new parenting podcast with single mom and life coach Celia Behar. It's touches on an oh-so-familiar sentiment in parenting, catching yourself saying something that you really, really never thought you'd say like, "eyeballs have to look in your direction" or, "stop looking at your sister's poop."
Funny mom Christina P. hosts this podcast all while getting hilariously real about how hard and wonderful parenting is. Christina is just so fun to listen to rant and rave and one of the best parts of the podcast is listening to her narrate other parents' #MomFails. It also has some really insightful guests like Dr. Drew Pintzer and Alyssa Milano.
Sean O'Connor and Julian McCullough bring you this truly excellent, and yes, amusing parenting podcast from Comedy Central. It's raunchy, it's wild, and yes, it's nice to hear about parenting from dads for a change.
We all need more Jewish mother advice in our lives and Jordana Horn's series from Jewish parenting site Kveller.com more than delivers. Not only does the podcast feature Horn's own mother dishing out advice, but it also highlights the stories of compelling guests like trans dad Rafi Dougherty and Jen Simon who talks about parenting through an opioid addiction.
If you're looking for a podcast to listen to while your young kids are in the car….well, this ain't it. Childish, hosted by Alison Rosen and Greg Fitzsimmons, is not at all safe for work, but that's what makes it fun. These two parents (Rosen has a baby and a toddler, while Fitzsimmons' kids are older) get really down and dirty about life and parenting and talk to some hilarious comedians while doing it. The title addresses the very relatable sentiment of still feeling like a kid, despite being the parent.
Bet you saw this one coming! Yes, we're here to rep Scary Mommy Speaks, which honestly, we're pretty sure you are going to love (ok, yeah, we're a little biased). Hosted by Ashley and Keri, our hilarious podcast features some of your faves, like Madge the Vag and some awesome guests like Tia Mowry and Andy Cohen.
Related:
We Just Dropped An Amazon Alexa Skill That Will Tell Your Kids Jokes For Hours
182 Hilarious Jokes For Kids That Adults Find Funny Too
This article was originally published on