14 Best-Selling Hair Products (And How To Use Them)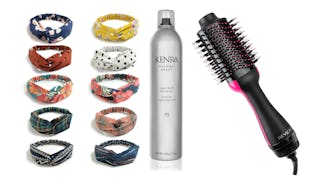 walmart
A great hair product can be life-changing, or at the very least will have you rockin' great hair on the reg. Maybe it's just us, but we feel it's our duty to tell women everywhere when we find must-have hair products (especially when they are all totally affordable.)
Here are 14 of our favorite hair products and how to use them.
According to over 370 4.5-star reviews, this leave-in heat protectant is where it's at. Just spray it on damp hair prior to blow-drying and again on dry hair before using your hot tools. Easy-peasy, and it's totally a steal!
If you have wavy or curly hair this is a must-freaking-have! It dries and styles your unruly hair at the same time. (No, we aren't kidding.) This blow-dryer volumizer combo gets rave reviews everywhere it's sold. (Looking for a flat brush version? Try this one.)
If you are a busy woman (read: mother), dry shampoo is a must. Don't let the retro packaging freak you out, this dry shampoo is the best. (More than 500 rave reviews totally agree with us.)
Got a kid that screams bloody murder when you try to brush their hair? You need this brush. Works like a charm on wet or dry hair for pain-free detangling. (You'll totally want one for yourself, too.)
You know you're super-pumped scrunchies made a comeback. No need to explain how to use these gems.
If you have coarse or dry hair, moroccan oil is amazing for a little added moisture, and this one is a fan favorite that won't break the bank. Just massage a small amount into your towel-dried hair (careful to avoid the roots), and you're done.
Are you obsessed with the soft beachy waves of mermaid hair? Yeah, us too. This curling wand makes mermaid hair easy-peasy. Just wrap a small section of hair around the wand and hold for a few seconds, then repeat until you are looking like a Disney Princess. (Be sure to let your curls cool before running your fingers through them, so they hold up or even longer.)
This damage-erasing balm has over 4,000 reviews and they all love it! If you have dry, damaged, or color-treated hair, just go ahead and drop this in your cart. Cover your towel-dried hair with this hair balm (careful to avoid the roots), let sit, then rinse.
If you're into DIY haircuts, this clipper set is totally for you. It comes complete with all the guards you need to keep you (if you rock a pixie) and your family looking sharp.
Everyone needs at least 1o boho headbands, right? OK, maybe not, but boho headbands are a great way to dress up that messy bun, girl. (If you're into florals, check out this adorable 4-pack!)
There is nothing worse than a sticky, stiff hairspray. This is our very favorite volumizing hairspray, and it doesn't leave you feeling like you're wearing a helmet.
This flat iron is highly rated and a fraction of the price of high-end irons. And bonus, it has anti-static technology!
This leave-in conditioner is a 10. No, really, that's it's name, and for good reason. It's perfect to spray in post-shower (onto towel-dried hair), and will keep your locks soft and manageable all day!
If you have been looking for a curl cream to define your natural curl, this is it! Apply to towel-dried hair, and you're good to go!
There's nothing better than a well-kept beauty secret, but these finds are just too good not to share. Whether you have an unruly head of curls, or baby-fine stands, we got you. Here's to a great hair day!
We may earn fees from purchases made via links on this page and affiliated sites. All opinions are our own.
This article was originally published on