Best Things to Do in Corpus Christi With Kids
by Amanda Svachula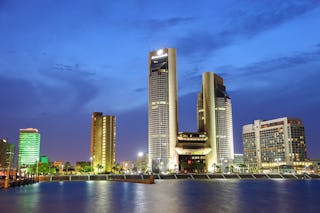 Denis Tangney Jr./Getty Images
Heading to the Texas coast? There are many fun things to do in Corpus Christi, Texas, with kids. From hotels to beaches, there are so many attractions. Here are some of the top things to do with kids in Corpus Christi.
Best Family-Friendly Hotels in Corpus Christi
There are plenty of hotels to stay at in Corpus Christi, most family-friendly. The Schlitterbahn Corpus Christi Resort is a favorite. It has a giant water park and other amenities.
Best Western Corpus Christi is in an ideal location. It overlooks the Marina and Corpus Christi Bay. For another option on the water, try the Omni Corpus Christi Hotel. If you bring your kids here, they will receive a backpack filled with toys. The hotel will also deliver milk and cookies to your room on the first night. The Hampton Inn & Suites Corpus Christi is in a quieter location.
Best Kid-Friendly Attractions in Corpus Christi
There are many kid-friendly attractions in Corpus Christi for everyone in the family. The Texas State Aquarium is a fun attraction. Your kids will love the Caribbean Sea exhibition, which shows animals in an underwater shipwreck.
The Selena Museum highlights the musician's life and connection to Corpus Christi.
If your kids like boats, they will love the U.S.S. Lexington, a museum in the bay. It has a flight simulation, along with other activities your kids will not be able to stop talking about. The Texas Surf Museum is also a fun stop.
Best Kid-Friendly Restaurants in Corpus Christi
There are a ton of options for food in Corpus Christi. Andy's Country Kitchen is a favorite of locals. Your kids will love its Southern comfort food!
A classic outdoor restaurant is Snoopy's Pier, where you can order different kinds of fries, hush puppies and a ton of fried seafood for the whole family, while looking out on the water. The restaurant also has its signature Sunset Sundae. Harrison's Landing offers a pretty similar vibe. It has a great kids menu with a word search and animals for kids to color in. Acapulco has great Mexican food.
Best Outdoor Activities in Corpus Christi
Corpus Christi has plenty of state parks and beaches. Padre Island National Seashore is by far the most well-known state park in Texas. It is the longest stretch of undeveloped barrier island in the world. The kids will love seeing the turtles and other protected aquatic life! Indian Point Park is a great spot for fishing. Cole Park has a great pier.
Malaquite Beach is secluded and on the quieter side. Your kids will love hunting for giant seashells on Big Shell Beach.
From beaches to amusement parks, there are many fun outdoor activities in Corpus Christi. In the Game Funtrackers features a golf course, bumper boats and go karts. The South Texas Botanical Gardens and Nature Center has a sensory garden and a children's play area.
If your family is into horseback riding, check out Horses on the Beach.
MORE: Things To Do in Seattle with Kids
Top Things to Do In El Paso With Kids
Top Things to Do in Tulsa With Kids
This article was originally published on