Best Things to Do in Oahu, Hawaii With Kids
by Amanda Svachula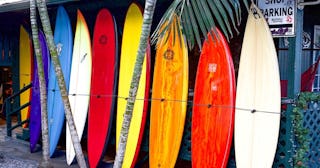 Chelsey Horne/Pexels
Looking for a relaxing tropical vacation? Oahu is the third-largest of all the islands in Hawaii. Home to Honolulu, Oahu has gorgeous beaches, state parks, kid-friendly cultural attractions and outdoor activities you can do with the whole family. We compiled a list of top attractions and activities you can look forward to. Here are the best things to do in Oahu with kids.
Kid-Friendly Attractions in Oahu, Hawaii
Oahu has many unique cultural attractions illustrating the island's rich history.
The U.S. Army Museum of Hawaii is a free attraction featuring exhibitions about Hawaiian warfare. For little ones who might be interesting in weapons and warfare, this is a great attraction!
Another great free attraction is the Hawaii State Art Museum. Once your family tires of wandering the art-filled hallways, visit the I Love Art Gallery, which has hands-on experiences to immerse your kids in the elements of art.
For a taste of Hawaiian culture, take everyone to the Kuhio Beach Torchlighting and Hula Show.
Best Resorts in Oahu for Kids
Most of the resorts in Oahu are luxurious and packed with kid-friendly amenities and activities.
Above all, the Disney Aulani Resort is one of the most kid-friendly resort options in Oahu. Be careful—you might not want to leave and explore the rest of the island if you stay here. It's packed with kid-friendly activities, like pool parties with Disney character appearances, and amenities, like a luxurious spa, waterslides, a lazy river and more.
Another great option is the Hilton Hawaiian Village Waikiki Beach Resort . The resort is huge. It has two beach-front towers and daily activities like ukulele and hula lessons.
The Ewa Hotel Waikiki is a budget-friendly option, but does not have a pool. Turtle Bay Resort is a bit pricer but is located on the north shore of the island, a bit away from Honolulu.
Best Restaurants in Oahu for Kids
Restaurants on Oahu serve a variety of cuisines, most incorporating fresh seafood and island produce.
Goofy Cafe and Dine has a laidback vibe, with surfer decor on the walls. Its menu includes poke and fruit bowls, great food for cooling off in the heat. At the Paia Fish Market, you can order a variety of fish cooked however you like. For the kids, there's a menu with fish and chips.
Lappert's Hawaii is a famous ice cream parlor with unique tropical flavors and coffee beans you can bring home. Luau Delight is a coconut and passion fruit flavor, while Big Island Inspiration is a vanilla ice cream with fudge brownies, chocolate chunks and chocolate covered macadamia nut shortbread. Similarly, Liliha Bakery is a dessert spot with a delicious selection of cream puffs, including its famous Coco Puff and Green Tea Puff.
Best Outdoor Activities in Oahu
Oahu is filled with fun kid-friendly outdoor activities. First, if you have pineapple fans in your family, you have landed on the right island. The Dole Plantation has a pineapple garden maze, along with a train tour and pineapple-cutting demonstration. Some reviewers have said it's quite touristy, but probably still worth a trip.
Second, your kids can swim with dolphins and see other sea creatures at Sea Life Park. The park focuses on the conservation of native marine species of Hawaii.
Waimea Valley is a beautiful lush valley with fun outdoor activities, and the Ho'omaluhia Botanical Garden is 400 acres at the base of the grand Ko`olau Mountains.
Best Beaches in Oahu
The beaches in Oahu, Hawaii, will transport you to paradise.
Take the kids to Lanikai Beach, a mile-long stretch of beautiful white sand located in Kailua on Oahu. It offers stunning views of the Mokulua Islands, known as the twin islands.
Visit the north shore of the island to hang out at Sunset Beach, a true surfing mecca. Watch top surfers practice into the evening. As hinted by its name, the beach also has gorgeous sunsets. Sandy Beach Park has more than just sand. The beach is near the famous Halona Blowhole, one of Hawaii's natural wonders created by molten lava.
Ala Moana Beach Park has a variety of activities and attractions, including three concession stands, tennis courts and a yacht club.
MORE: Things to Do With Kids in Tampa
Top Attractions and Activities on Hilton Head Island
This article was originally published on