Best Things to Do in San Jose for Families
by Erica Landis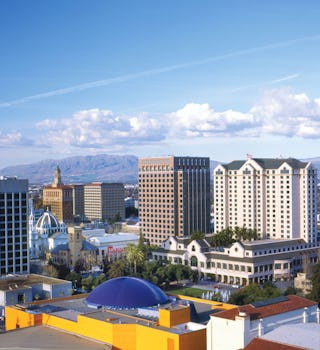 Credit: sanjoseca.gov
Do you know the way to San Jose? Aside from that question being a catchy Dionne Warwick song, San Jose has so much to offer in activities for kids and families. Filled with cutting-edge technology, multicultural people and food, and incredible examples of California's natural beauty, you will run out of time before you see it all. Or before someone has to go the bathroom. Whichever comes first.
Family Attractions in San Jose
The Children's Discovery Museum has many themed exhibits all keeping their core value in mind. You could spend a few hours at this hands-on museum for kids in San Jose. Cultural inclusivity and visitors of all physical and developmental ability will find something fantastic here. You'll find me at the bubbles exhibit. Play is essential for a child's development. Ahem, adults need it too. Now outta my way, kid. I was playing with that.
Happy Hollow Park and Zoo is the best of all worlds with a modern slant on eco-friendly family fun in San Jose, California. This place knows how to have a good time! There's an AZA-accredited zoo, a park with cool themed playgrounds, puppet theater, and rides! I said rides! Meet their mascot, Danny the Dragon, and learn with Captain Conservation. An on-site casual restaurant as well as catering options for events at the park make Happy Hollow "boredom proof."
Got a creepy AF kid? An aspiring paranormal investigator? Budding architect? A Goth teen? Is Goth even still a thing? If the answer is "yes" to any of these questions then a visit to the The Winchester Mystery House will give your family something to talk about for years. Sarah Winchester was the heiress to the Winchester Rifle fortune. Many stories swirl around about the truth behind this California and San Jose landmark as well as being listed on the National Archives of Historic Places.
The house, at last count, had 10,000 windows, 2,000 doors, 47 fireplaces, 40 staircases, 13 bathrooms, and nine kitchens all built into a dizzying maze. Leave out the part about the evil spirits if explaining its history to your more timid little ones. It's just a really cool house no matter who else may inhabit it.
https://www.instagram.com/p/BxBVc_aHA-3/
If you can't find it here, at least you'll have fun looking! The San Jose Flea Market is not just stuff for sale. Since 1960, The San Jose Flea Market has been one of the best family-friendly destinations to spend a fun and inexpensive day. With over 1,000 vendor spaces, the kids can go on a hunt for obscure treasures you never knew you needed. There's an antique carousel, a mini-Ferris wheel, and a playground with inflatable slides. Plenty of food choices from street faire food to pop-up gourmet restaurants.
The San Jose Flea Market is a small city with a life of its own. Find everything from organic vegetables to a strolling mariachi band, and even a barber shop!
A must-visit in San Jose, California for your STEM kids and little (or big) scientists, The Tech Museum of Innovation is a Silicon Valley landmark. Through kid-friendly, hands-on experiences and programs, many funded by Stanford and NASA. In addition to super cool exhibits, there's also the largest IMAX dome screen in the West! Eight stories high, people! Lectures, exhibits, and films change often so check their exhibit schedule. They even offer sensory-friendly hours.
Are your kids climbing the walls during school vacation? Are they in-turn driving you up the walls? Why not make it a family activity? The Castle Rock Climbing School offers outdoor classes ranging from four hours to the entire weekend. You know what they say, "The family that climbs together…" Actually, I don't think there's a saying for that. But why not go check it out and see what you come up with?
Outdoor Activities in San Jose, California
What's better than a water park to finally get a really solid night's sleep? Yes, vodka or Tylenol PM can do wonders for us moms. But the kids need good old-fashioned water park fun. Check out the mild to wild attractions at Raging Waters San Jose, order a few pizzas and then crash hard back at the hotel. I love an exhausted child, don't you?
Sierra Vista Open Space Preserve is made up of lots of different trails. There's something for everyone in this beautiful true nature preserve on 1,611 acres, with 3 levels of hikes, and only 25 minutes from downtown San Jose. Start with The Aquila Loop Trail. This relaxing hike, great for beginners and families with young children. Be on the lookout for red-tailed hawks, bobcats, and acorn woodpeckers. Guided hikes are a great way to learn about the incredible conservation efforts that go on here.
With over 40 rides, gardens and exhibits, Gilroy Gardens (about a half hour from downtown) has something for all ages. Ride the Garlic Twirl, Mushroom Swing, Illions Supreme Carousel, and visit the Monarch Garden. But please do not miss the circus trees of Gilroy Gardens! Featured in Ripley's Believe It or Not and Life Magazine, these creatively grafted trees from the 1920's are insanely cool!
San Jose in Winter
If you visit San Jose during the Winter Holidays, you'll want to bring your elves to Downtown Ice and The Downtown Winter Wonderland. Also check out Christmas in the Park-a family friendly, traditional Christmas celebration with trees, lights, and a very believable non-creepy Santa. San Jose knows what's important at Christmastime.
Best Restaurants in San Jose
Scrambl'z is the place to go with hungry kids to start the day. They have two locations and are open from 7 a.m. until 2 p.m. The walls are filled with cool memorabilia and the kitchen is hoppin' with breakfast and lunch cooked from scratch. Even the phrase "a fun place to eat" is in the name. Stuff those cute faces in the morning so you don't have to stop all your San Jose fun for too long at lunch.
The Cup and Saucer Cafe is like my favorite New Jersey diner transplanted to the West Coast. Doing delicious business since 1990, this very family-friendly restaurant serves breakfast all day and night too! The Healthy Choice Menu lives side by side with the onion rings. Lots of onion rings. And onion rings bring families together. Scientific fact. Also, kids eat free Monday nights!
The Old Spaghetti Factory has been serving three-course meals to carb-loving families since 1969. Family-owned and operated, they make every celebration fun. My daughter has been mispronouncing spaghetti since birth. Bring the kids here for bowls of everyone's favorite noodle, no matter how you say it. We're partial to pisghetti.
A mere 4 miles outside of San Jose, there is donut nirvana. Pile those maniacs into the rental car and sugar them up at Stan's Donut Shop! With its long 1950's lunch counter and classic coffee shop signs, it's like stepping back in time. The donut shop was established in 1959. Stanford Wittmayer, "Stan," was a World War II veteran. He was married to his wife, Tina, for over 60 years. Stan and Tina's nine children all worked there at one time one time or another. Do you think they fought over the chocolate donuts as much as my family does? Bring cash only. They don't take credit cards. Oh, and bring a pack of baby wipes. Because glazed donuts.
Best Places To Stay With Kids
We all know that most kids only care about the pool when it comes to staying in a hotel. I simply need sheets that don't scream for blacklight. And maybe a mini-fridge. With those disposable glasses filled with wine. But I digress. There are plenty of family friendly hotels in San Jose. Collapse with exhaustion in these reliable, four-star hotels: The Hilton San Jose and The Marriot San Jose both offer packages and weekend family rates.
MORE: Best Places to See in San Francisco
Things to Do in San Diego With Toddlers
Top Attractions for Toddlers at Disneyland
This article was originally published on