'Bestie Row' Is The Ultimate Squad Goals Living Arrangement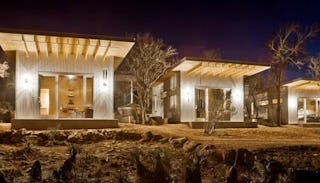 Photography by Alexander Stross
These Texas best friends found the perfect way to live together until they're old and gray
Who wouldn't want to just live with their besties? BFFs spend all their time together already anyway. Who hasn't sat down with a bestie, had a few glasses of wine and dreamed out loud about just living together forever?
A group of besties in Texas just found the perfect way to pull that off.
After 20 years of BFF-hood, the four couples knew that they wanted to live near each other until they got old and gray and could yell in unison at kids to get off their lawn(s). They kicked around the idea of buying a huge house and moving in together, but they also all wanted to have their personal space, because even best friends need that sometimes.
Behold, their solution (in a bunch of gorgeous photos by photographer Alexander Stross): a compound of tiny homes they built so they could all live together on the same property. They hired an architect to build their homes on a piece of land they purchased together along the Llano River. Each couple has its own tiny house, ringing in at about 350 square feet with a $40,000 price tag. They also built a fifth structure to house a communal kitchen and entertaining space.
So far, the homeowners aren't living at their compound full time — they treat it as a vacation getaway. But they did name it "The Llano Exit Strategy," reflecting their plans to retire there someday, when they're ready to fully escape from their hectic lives in nearby Austin, Texas. And the fact that retirement is still a few years out for them is only good news for the rest of us — it means they rent out their tiny home escape as a vacation rental when they're not using it. Who's ready to plan a Texas getaway with a bunch of besties? (Author raises hand)
This is a whole new level of #SquadGoals.