People Are Completely Obsessed With These Beauty Products On Amazon
by Team Scary Mommy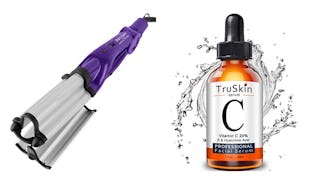 Image via Amazon
All of these beauty products are flying off of Amazon's virtual shelves
Going on an online shopping spree and having trouble deciding what to pamper yourself with? I'd like to turn your attention immediately to Amazon's bestselling beauty section, where people cannot seem to get enough of these super useful products. Your hair, skin, and body will thank you immensely.
Soothe your skin with this facial toner made from witch hazel, rose petal, and aloe vera. It promises to rejuvenate dehydrated skin and bring on all of the glow.
Tired of constant plucking and expensive wax appointments? This razor will remove unwanted hair and features a stainless steel safety cover so that your skin is safe from scrapes.
We should all bow down to the powers of Vitamin C. It's known for promoting overall brightness, getting rid of those dark spots, plumping fine lines, and improving skin tone. This serum puts in the work.
Are your breakouts making you feel like a hormonal teenager? Meet the Avarelle acne patch. It's made from Tea Tree Oil & Calendula Oil, blends into your skin, and covers up all those annoying bumps. They come in a variety of sizes and will absorb pus and oil throughout the day.
Give your hair some serious TLC with this Opalex repairing treatment. It strengthens your locks, reduces breakage, and brings on alllll of the shine.
Speaking of gorgeous hair, I'd like to turn your attention to this curler which was designed to give you perfect beachy waves. Goodbye confusing YouTube tutorials on how to properly curl your hair. Hello easy, breezy tousled hair. Also, the Amazon reviews are glowing.
This colorful five piece beauty sponge set is made from non-latex and non-allergic material. They're also super soft on your face, so that's a big win right there.
Give yourself the ultimate at-home facial treatment with this healing clay. It's designed to draw out the impurities in your skin and deliver a deep pore cleanse. Yes, yes, yes to all that.
Go big or go home with this rose gold brush set. It comes complete with an assortment of specialized brushes, including foundation, lip liner, blush, and powder. Basically, the holy grail right there.
This scalp massager will boost blood flow, exfoliate your scalp, moisturize your hair, and provide all of the relaxation. Because, honestly, life is always a whole lot better after a head massage.
Now, go get your pamper on. It's been a very long, very cold month and you deserve it alllll.
We may earn fees from purchases made via links on this page and affiliated sites. All opinions are our own.