Bethenny Frankel Is Donating 1 Million Face Masks to Medical Practitioners
by Julie Scagell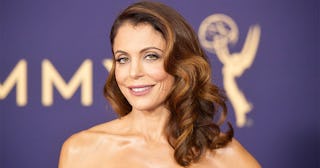 Matt Winkelmeyer/Getty
Bethenny Frankel is doing her part to help medical professionals
Real Housewives of New York star and philanthropist Bethenny Frankel is producing 1 million face masks for medical professionals through her disaster relief organization, BStrong, to help with the shortages in hospitals across the country.
Frankel sat down for an interview with radio.com, published on Sunday, March 22, and gave fans details about how BStrong will be manufacturing and shipping in-demand medical masks across the US.
"My partner is in Florida, quarantining himself except for when they go into our warehouse which will only be about 6 people at a time, and they're 6 feet apart with gloves and masks on," Frankel said. "We're having a lot of medical masks shipped directly from other countries to the hospitals."
She's also been sharing updates with her Instagram followers, noting that "every hospital, every clinic, [and] everyone [is] in a panic and with no supplies," and took to Twitter, saying, "As of tonight, we have committed 450k masks and counting. By tomorrow, with more donations, we will be closer to a million. We are helping the nation's health care workers. This is the largest crisis of our lifetime. #bstrong."
BStrong is working with five suppliers and manufacturers including several in China and Israel. "So they're N95 masks," she said. "They also have gowns and different medical equipment."
The mom-of-one committed to sending these masks everywhere from "Sarasota to Saratoga to Philadelphia to New Jersey to Staten Island to all over the country" and should be shipping within the next several days. "We don't have red tape and we move very quickly," she said.
Frankel launched BStrong in 2016, and according to the foundation's website, its mission is to provide "real-time emergency assistance to people in crisis."
She continued: "I think this is a global reset. It's terrible and so sad, but everybody that I know feels like there's a shift, and that they're experiencing something, and that something is happening personally for them," she said. "The most important thing for people to do is to stay calm, cool, and collected and be a person that is good in a crisis."
Frankel also said she feels lucky to be in a position to be able to mobilize help quickly. "I'm grateful that I have a good support system. I'm grateful that I have a place to be. I'm grateful that I have a mission and a way to help and help be a part of a change in the world," she said.