Real Housewife Bethenny Frankel Is Actually A Secret Superhero
by Christina Marfice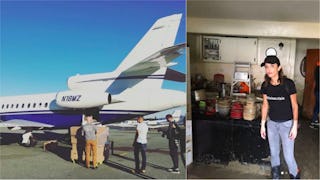 Image via Bethenny Frankel / Instagram
Bethenny Frankel just took four private planes filled with supplies and EMTs to Puerto Rico
Anyone who watches the Real Housewives franchise knows who Bethenny Frankel is, but what they might not know is that she has a huge heart and is going to great lengths to help the victims of Hurricane Maria in Puerto Rico.
As it turns out, Frankel is a real-life superhero. Casually and quietly, she's been using her charitable foundation, B Strong, and her own money (presumably a bunch of it) to collect supplies and other aid for hurricane-devastated Puerto Rico. And in just a few days, she filled four entire private jets with food, water, medical supplies and EMTs and flew to the island to see for herself that it was all appropriately distributed. Oh, and she documented it all on Instagram so we could all follow the journey.
Frankel wrote in one caption that the planes were full of "supplies, suitcases full of cash cards, pediatric supplies, insulin, hygiene products, medics, non perishable food, Rescue Warrior nurses, EMTs and combat medics." All that would be dropped off in Puerto Rico, and then the planes would be filled back up with "cancer patients, diabetics and people that are dying" to be transported back to the U.S. Is your jaw on the floor yet? Because mine is.
Those four planes have already arrived in Puerto Rico, and Frankel is currently working on getting a fifth en route to the island.
What Frankel is also doing, though, is documenting from the ground in Puerto Rico just how bad things are there. In one video, she described how people crowded around one of her supply trucks, not even knowing what was in it.
"This is a whole town that just saw a truck. They don't know anything. They didn't know we were coming," she said. "We just stopped to look at the destruction and they are lining up in droves just to get diapers and wipes and water. They're not getting the help. Whatever anybody's telling us, they're not getting the help at all. It's bad."
"Is this normal to anybody in the world?" Frankel asks in another video as she pans the camera over a street littered with trash, furniture and appliances left there by flooding.
Frankel's photos are a striking reminder of just how dire the situation in Puerto Rico still is.
Frankel is still collecting donations to send more planes to Puerto Rico. You can donate on B Strong's website.