Betsy DeVos Is Considering Allowing Federal Funding To Arm Teachers
by Valerie Williams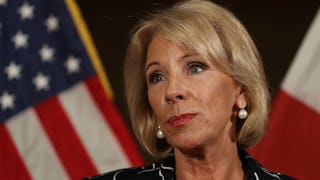 Image via Joe Raedle/Getty Images
DeVos is considering arming teachers using a grant program
We've long known that Education Secretary Betsy DeVos is laughably unqualified for her job and is doing her level best to unravel a number of good things in public education, but her latest brilliant idea is possibly the most alarming of all. She's reportedly considering a plan that would allow states to use federal funding to buy guns for teachers.
Yep. That's a real thing I just typed in the United States of America.
The New York Times reported yesterday that the Education Department was mulling over the idea of arming teachers with actual firearms, despite the fact that a plan like this has never gained traction in Congress before — in fact, it's always been the opposite. Congress has moved previously to restrict the use of federal funding for guns in schools and this past March, passed a school safety bill with $50 million a year in allocations to local schools, but the funding was not to go toward firearms.
But a program the Education Department is looking at, the Student Support and Academic Enrichment grants, doesn't include any blocks on federal funding going toward guns. That means DeVos would have the choice to allow federal funds to go toward state or district plans to buy firearms for schools.
Liz Hill, a spokeswoman for the Education Department says, "The department is constantly considering and evaluating policy issues, particularly issues related to school safety. The secretary nor the department issues opinions on hypothetical scenarios."
The Student Support and Academic Enrichment grants, $1 billion in funding as part of the Every Student Succeeds Act, has noble-sounding intentions such as providing opportunities for academic enrichment and to improve conditions in the country's poorest schools. The Times reports that people familiar with the Department know that their research has determined that guns could be purchased under the "improved conditions" part of that grant. Awesome.
Department officials were considering issuing the new funding guidance before the 2018 school year began but apparently are still considering the potential for backlash. Because, hello.
In the wake of the horrific shooting at Marjory Stoneman Douglas, President Trump attended a listening session with school shooting survivors where he floated out the idea of giving teachers guns. "If you had a teacher who was adept with the firearm, they could end the attack very quickly," he said.
Sure, bro.
It's hard to know where to even start with all the ways arming teachers is one of the absolute worst ideas of all time, but Congresswoman Gabrielle Giffords, herself a shooting survivor, summed it up nicely in a statement responding to the Times report, "It recklessly puts American children in even more danger. It's time for Americans to find the courage to take on the powerful and fight for our own safety."
"We can forge a better path. It's time for Americans to find the courage to take on the powerful and fight for our own safety."
This article was originally published on