Betsy Devos Is Dangerous For LGBTQ Students (And We Should Be Worried)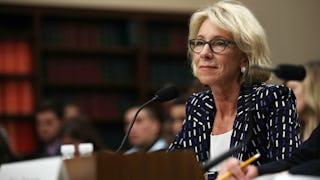 Alex Wong / Getty Images
Same-sex couples are raising more than 200,000 children in the United States, based on a recent UCLA Law School study, including 40,000 gay male couples. The 2010 census, found that about one-quarter of LGBT couples are raising children. Approximately 37% of LGBT-identified adults will have a child sometime during their lives. Another 1.2 to 2 million children are raised by other LGBT individuals who are not part of a same-sex couple.
If you were a cabinet member who was about to host a Father's Day-themed event to celebrate the importance of fathers' engagement in their children's lives, which groups would you invite, given the diversity of family structures in the United States?
If you are Secretary of Education Betsy DeVos, who organized the event, you would invite two anti-LGBT Christian hate groups to the daylong conference.
If you were the head of the National Parent Teacher Association, with 4 million members across the country, you would immediately pull out of the event, writing a statement that these two groups did not share their commitment to protecting LGBT students.
These two hate groups are the Family Research Council and Focus on the Family. While they sound innocuous, their missions and previous statements about LGBT rights are anything but. Here are a few facts to know about these groups in order to understand the outrage caused by their inclusion in the Father's Day event:
– The Family Research Council is classified as an anti-LGBT extremist hate group by the Southern Poverty Law Center. It cites many quotes on FRC's own website as evidence, including: "Family Research Council believes that homosexual conduct is harmful to the persons who engage in it and to society at large, and can never be affirmed. It is by definition unnatural, and as such is associated with negative physical and psychological health effects."
– The FRC argues that gays and lesbians are more likely to commit sexual abuse than heterosexual people. From the Southern Poverty Law Center's investigation and the FRC's website once again: "While activists like to claim that pedophilia is a completely distinct orientation from homosexuality, evidence shows a disproportionate overlap between the two. … It is a homosexual problem."
– James Dobson, the founder of Focus on the Family, has implied that transgender individuals who use public bathrooms deserve to be shot. He implored parents to "shield [children] from gender feminism and from those who would confuse their sexuality." He has called the nation's public schools "godless and immoral" and advocated that parents take their children out of public schools.
– The foundation run by DeVos and her husband, as well as her family's larger foundation, has given hundreds of thousands of dollars to Focus on the Family, according to an investigation into the family's tax filings by Mother Jones.
– Focus on the Family supports "conversion therapy" for LGBT individuals, stating on their website that "just as there are many paths that may lead a person to experience same-sex attractions, there are likewise multiple ways out." They also sponsored a national tour called "Love Won Out" spreading the message that gay individuals are not born gay and can stop same-sex attraction (with support).
In addition to inviting these two Christian hate groups to a Father's Day event, DeVos found another way to worry the LGBT community about her support of protections for students and families.
The Department of Education's Office of Civil Rights has issued new guidance that the department should look into claims of discrimination in the same way that they would have before President Obama passed new legal guidance for protecting transgender students. In February, DeVos rescinded Obama-era guidelines for transgender students. For instance, President Obama's guidelines stated that schools must allow students to use the bathrooms and locker rooms that match their gender identity. (In February, DeVos dismissed those bathroom protections as "overreach.")
The Obama-era guidelines asked schools to treat students in a way that is consistent with their stated gender identities.
Several organizations that advocate for the rights of transgender students are worried about rolling back these Obama-era guidelines, according to Huffington Post.
For example, a statement from the Gay, Lesbian, and Straight Education Network expresses these anxieties: "GLSEN calls on OCR to specify whether they will defend trans students' access to safe and appropriate school facilities — regardless of where the student lives or what local protections may or may not exist. Forcing trans students to use restrooms that do not align with their gender identity puts those students at risk of harassment and violence."
The White House has yet to acknowledge June as National LGBT Pride Month. In contrast, Presidents Clinton and Obama issued statements celebrating Pride Month. President Obama held a yearly reception each June to honor leaders in the LGBT movement.
Taken together this month — the invitation of anti-LGBT hate groups to an event, the rolling back of Obama-era transgender student protections, the absence of any White House recognition of Pride Month — many LGBT activists are concerned about the direction of this administration.
At dozens of marches (called the "Equality March for Unity and Pride") across the country last week, LGBTQ activists marched for resistance of the Trump administration's policies.
The president and CEO of GLAAD, a nonprofit founded by LGBT individuals in the media, told CNN that her organization will be one of many fighting to resist the Trump administration's efforts to roll back progress: "Pride over the past few years has become more celebratory than ever. But I think we're back to the times where it's important for us to be loud and resistant and fight for our rights and visibility. I want them to take the message that we're not going away, that we will not be erased and that we need to be acknowledged and brought into the conversations and into legislation."