Betsy DeVos Makes A Joke About 'Free Lunch' - Twitter Reminds Her Why It's Not Funny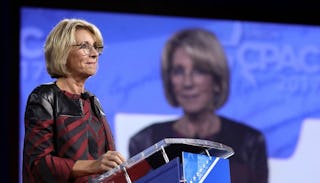 Via Chip Somodevilla / Staff
No, Betsy DeVos, children going hungry is not a joke
In maybe her most callous display of complete ignorance about the public school system (and government spending as a whole), Secretary of Education Betsy DeVos joked "free lunch" during a speech at the Conservative Political Action Conference on Thursday.
"I'm Betsy DeVos. You may have heard some of the 'wonderful' things the mainstream media has called me lately," she said. "I, however, pride myself on being called a mother, a grandmother, a life partner, and perhaps the first person to tell Bernie Sanders to his face that there's no such thing as a free lunch."
With her jab at free lunches, DeVos was taking a stand against government spending. Coincidentally, the National School Lunch Act, which provides free and reduced-cost lunches to more than 31 million kids in U.S. public schools is currently facing huge changes, thanks to Republicans, who want to make it harder for families to qualify for free and reduced-cost meals for their kids at school. The program has existed since 1946, when it was signed into law by then-President Harry S. Truman, and it has since become vital to the success of many students — the nonprofit No Kid Hungry says that about 13 million kids in the U.S. struggle with hunger, and for many of them, free lunch at school is the only meal they can count on during the day.
DeVos' joke sparked outrage on Twitter, where critics pointed out her complete disconnect from the reality that students in poverty depend on free and reduced-price lunches at school.
According to the USDA, the National School Lunch Program cost $11.6 billion in 2012, which amounts to about 0.03 percent of the entire United States budget. For perspective, that's just under 2 percent of the U.S. military budget, which rings in at $597 billion. If we're looking for meaningful cuts to government spending, free lunches for hungry students are not going to provide them.
This article was originally published on