Betsy DeVos Won't Commit To Protecting LGBTQ Students At Private Schools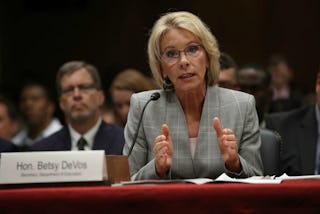 Image via Win McNamee/Getty Images
There's no clear-cut law protecting LGBTQ students from discrimination, and Betsy DeVos isn't getting involved
U.S. Education Secretary Betsy DeVos won't guarantee that schools receiving federal funds won't be able to discriminate against LGBTQ students.
DeVos testified at a hearing before the Senate Appropriations Subcommittee on Labor, Health and Human Services, and Education Tuesday, where she said the Department of Education will not give money to private schools that violate federal anti-discrimination laws. But since there are no clear-cut laws currently in place protecting LGBTQ students from discrimination, her response to questioning about funding schools that discriminate against LGBTQ kids was pretty much a big shrug.
DeVos' proposed budget would cut billions of dollars in funding for public schools, instead funneling that money toward school choice programs, meaning it would help students attend private and religious schools. At the hearing, she maintained that the Department of Education will not give any guidance to schools about discrimination beyond what is written in federal law, which means schools that refuse to accept students based on gender identity, sexual orientation or even religion could receive federal funds under DeVos' proposed budget.
"On areas where the law is unsettled, this department is not going to be issuing decrees. That is a matter for Congress and the courts to settle," DeVos said when questioned by Sen. Jeff Merkley (D-Ore.).
Merkley responded, "I think you just said where it's unsettled, such discrimination will continue to be allowed under your program. If that's incorrect, please correct it for the record."
DeVos' answer? "Schools that receive federal funds will follow federal law, period."
When she was accused of dodging the question and further questioned by more members of the committee, DeVos doubled down.
"Any school that accepts federal funds, will follow federal laws, period, without discrimination."
This isn't the first time we've heard this refrain from DeVos. Weeks ago, she testified before the House Appropriations Committee, where Rep. Katherine Clark (D-Mass.) asked specifically whether there would be any repercussions if schools that receive public funds choose not to accept LGBTQ students. DeVos said that's an issue better left up to individual states rather than her department.
"The bottom line is we believe that parents are the best equipped to make choices for their children's schooling and education decisions," she said. "States and local communities are best equipped to make these decisions and framework."
That, of course, is ludicrous — if states are allowed to decide individually whether publicly funded schools can deny entry to LGBTQ students, we end up with a patchwork of different rules that could require families of LGBTQ students to move to different states in order to guarantee their children an education. It's not a surprising stance for DeVos to take, considering she thinks education should be wholly privatized. But for those of us who still stand by the American ideal that all children are guaranteed an education, this is pretty outrageous.
We're not the only ones sighing and shaking our heads. DeVos' proposed budget has drawn criticism from civil rights groups and groups advocating for LGBTQ students, including Mara Keisling, executive director of the National Center for Transgender Equality.
"Secretary DeVos' withdrawal of lifesaving guidance supporting transgender students has already been repudiated by the courts," Keisling wrote in a statement released Monday. "Her recent statements that she would let private schools openly discriminate with federal dollars are unacceptable."
We couldn't agree more.
This article was originally published on