Betsy DeVos Is NOT The Right Choice For Education Secretary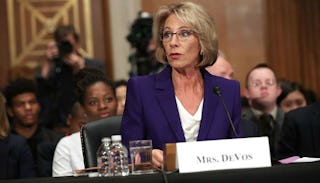 Chip Somodevilla / Getty Images
I am watching Betsy DeVos's hearing on C-SPAN. I reach for my Christmas present slipper and hold it up in the air, aiming for the screen. My husband hears me shout from the kitchen, "This is wrong! She is wrong! She has not taught and is not an educator. She does not support public education. What she is, is someone who has given millions to the Republican party!" $200 million to the Republican party, to be exact.
My husband tells me not to give myself a heart attack. But I can't help it. I am breathing hard. I am an educator. I do teach in a private school. I care about public education, and I believe in educational opportunity for all children.
In case you haven't heard, Betsy DeVos is Donald Trump's cabinet pick for United States Secretary of Education. She would be the head of the U.S. Department of Education. As in, the one in charge of the Department of Education. You know, the department Mr. Trump said he would shred if he could? Well, he can't, so instead, he will do the next best thing: nominate the public education abolisher — one Ms. DeVos.
As Secretary, Ms. DeVos would be the principal adviser to the president on federal policies, programs, and activities related to education in the United States. The U.S. Department of Education is responsible for maintaining policies related to education and improving the educational system.
I got a whole lot of trouble with that, my main reason being that Betsy DeVos loves school choice. Vouchers. Charter Schools. My mind races while I think of the dangers this brings to public education that I can only type in fragments: Bad. Warning. Not all children. Help.
Vouchers are public funding to pay for private and religious schools. Most often, they are Christian. The thing about vouchers, and their associated school choice, is that they are for private schools, and private schools can pick their students. That's right. I work at a private school, and we don't have to take every student who enrolls. That's because voucher schools are legally able to turn away students with disabilities. Betsy DeVos doesn't plan on changing that. There are charter schools that do not take students who have any learning disability. Not all schools, but some schools; if they feel they are not able to physically or professionally accommodate the student with disabilities, they are legally able to say that they cannot serve them.
I don't believe in ranting and blowing a gasket if you don't have any suggestions for repair, so what I'd like to see is this. More of what Milwaukee has: a great selection of magnet or special interest but 100% public schools. People have a choice with that, but no one's tax money is going to a religious school of any kind.
If you think I'm Little Red Hen screaming that the sky is falling with Betsy DeVos, google the state of Michigan, and read what's happened there with their school voucher program. See if you don't cover your own head when you read that for over two decades, Betsy has been pushing for the spread of charter schools in Michigan. About 80% of Michigan's charter schools are run by for-profit management companies, a much higher share than anywhere else in the country.
What she did to Detroit, she will do to the rest of America. This means neighborhood public schools will drop in enrollment, visibility, community presence, educational resources, and state scores. Since the voucher program began in Detroit, public schools have been in a steady decline with funds that could have gone to them instead going to private schools.
You know what else you'll find out when you learn more about school voucher programs? What they do to neighborhoods and communities. It's worrisome. What makes a neighborhood is a gathering place, activities after school that are close by and in the school your children attend. But once the children begin to scatter, our schools and neighborhoods erode. Where will they go at night? Not the few blocks away to the school they attend during the day. Schools often are the center of a community, but when children are going somewhere else for their after-school clubs and sports practices, neighborhoods lose their cohesiveness. Friends aren't close by anymore, and neither are reasons to get to know the people who teach your children.
This may not be a problem for you, but it would have been for me. I grew up poor, in a struggling neighborhood. I was lucky that our grade school was less than two blocks away and that since we had no car, we could get to our after-school Girl Scouts meetings or basketball games, or stay for help with homework or attend open gym, without worrying about how we would get there at night.
It does take a village. We've heard it a hundred times, and that's because it's true: We need neighbors, teachers, friends close by, because social support and networks matter. I know we all want the same for our children in America — quality education, schools that are close by so transportation is not an issue. Close, convenient, safe, good. And now I'm back to speaking in fragments again. But that's because I can see the good that can come if we invest in our public education system.
One thing I have felt more than ever in this election is the need we have to care for one another. We have to think of all the children in our country who are served by public education. We have to not lose sight of the Individuals with Disabilities Education Act (IDEA), a federal law that requires schools to serve the educational needs of eligible students with disabilities. What this law says is that all children with disabilities are entitled to a free appropriate public education to meet their needs. That's what public schools must provide, and cannot turn children away for.
If you listen to Betsy DeVos, she'll say she is for the children. But we need to read between the lines. We need someone who is for all children. With Betsy DeVos and her push for school choice, the poor and those needing special services will be sent out into the wild seeking whatever is left for them.
I'm not saying that Ms. DeVos, the chairman of Alliance for School Choice, is lying with what she's saying, I'm just saying she's not telling us the truth.
So, what can you do? Call, email, tweet, Facebook message your US Senator. Ask them to protect public education. Tell them we want investment in safe, clean, well resourced, professionally staffed public education in our neighborhoods.
Tell them you want this for our children.
To find your U.S. Senator call 202-224-3121 or click here.
This article was originally published on