Betsy DeVos' Parkland Visit Slammed By Marjory Stoneman Douglas Students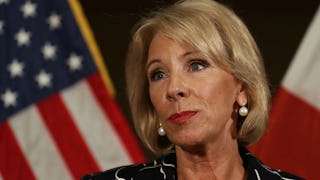 Image via Joe Raedle/Getty Images
Betsy DeVos wasn't well received when she visited Marjory Stoneman Douglas High today
In today's "Who thought this was a good idea" news, Education Secretary Betsy DeVos made a semi-surprise visit to Marjory Stoneman Douglas High School, the Parkland, Florida school where 17 people were killed in a mass shooting on Valentine's Day.
DeVos announced her plan to visit the school on Twitter the night before.
The visit was closed to members of the press, which should be an immediate red flag in a situation like this. When journalists can't hold public officials accountable, nothing good happens. As for the students who survived the Parkland Shooting? They were immediately unimpressed.
It's no wonder the students chose to take on DeVos. They've made headlines for repeatedly dunking on celebrities, politicians, and the NRA as they lead the charge for common sense gun control to protect students from more school shootings. And DeVos has been criticized for her education policies from the minute she took office; she thinks schools should operate on a for-profit voucher system, she refuses to do anything to protect LGBTQ kids from discrimination at school, and she famously suggested arming staff to protect schools from bear attacks during her confirmation hearing (yes, bear attacks, the No. 1 threat facing schoolchildren today). Because of that, we already know her stance on guns in schools: She thinks they should be there, and that they make schools safer. Nope, nope, nope.
Now that DeVos' visit to Marjory Stoneman Douglas High is complete, we're learning from the students' Twitter feeds exactly how it went (spoiler alert: not well). Students claim DeVos was at the school only briefly, and that students were hardly even allowed to interact with her.
DeVos' camp claimed student media were allowed to follow her on her visit, but tweets from the students claim they were only allowed a brief photo op.
Other students called out DeVos for refusing to take their questions.
And news outlets reported that DeVos held a scheduled press conference at the school, but abruptly ended it when students tried to talk to her and ask questions.
In answers to the small handful of questions she allowed to be asked, DeVos skirting around addressing any sort of gun policy that she could help push or endorse. Overall, this whole charade was an insult to the survivors of the Parkland shooting and the students all over the country who are working to actually stop gun violence against kids. Our politicians have to do better — the kids are demanding that they do better. But they're still not stepping up.