Betsy Devos Wants To Defund Special Olympics Because She's Basically A Cartoon Villain Now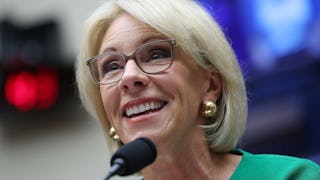 Image via Mark Wilson/Getty Images
Betsy DeVos proposed a new education budget that's somehow worse than the last
Betsy DeVos continues to show her true colors — and how little she cares about America's kids — with her proposed Education Department budgets for 2020.
In her latest proposal, DeVos actually called for the government to end all the funding it gives to the Special Olympics. That's right — the Trump administration is still fighting for billions to construct a southern border wall while giving tax cuts and benefits to corporations and the mega-wealthy, but it wants to stop funding for the Special Olympics. That is actually where we're at right now.
"We had to make some difficult decisions," Besty DeVos apparently said with a straight face as she addressed a House subcommittee with her proposed numbers, which included slashing the nearly $18 million the government currently gives to the Special Olympics. She went on to justify this proposal by saying the Special Olympics is better supported by philanthropic donations.
Just that part of the proposed budget alone would impact nearly 300,000 kids who participate in the Special Olympics, which we all know is one of the most powerful and inspiring organizations we have in this country. Sure, the Special Olympics would likely go on without support from the federal government. But that's not the point. The point is that this is the Trump administration and Betsy DeVos telling us loud and clear that tax cuts and a border wall are more important than opportunities for kids with disabilities.
And sorry, but that's not all. The budget that DeVos proposed this week would also cut a $51 million program to aid kids with autism and other developmental disabilities. DeVos and the Trump administration are funding their own twisted agendas, literally at the expense of the most vulnerable of our country's population. It's despicable.
It's important to note that at this point, this is just a proposed budget. Nothing is set in stone yet, and analysts are already pointing out that far more conservative budgets than this one failed to pass a vote when Republicans held the majority of the seats in the House. Not that Democrats are in control there, it's even less likely that this budget will make it into legislation.
But the point still stands about this showing the president's and DeVos' priorities for kids and education. They are literally willing to sacrifice the education and well-being of children to fund their own interests. Something that anyone with a heart is simply not here for.
This comes after Betsy DeVos proposed more than $7 billion in cuts to education in a previous budget, including eliminating almost three dozen after-school and summer programs for at-risk kids who live in impoverished areas. At the time, DeVos said her budget promoted "school choice," and "protecting our most vulnerable students," though the funds being allocated would have done the exact opposite.
Basically, Betsy DeVos is not recommending anything that will make education better in the U.S. In fact, her budget proposals eliminate programs that make our education system fair and supportive of students with a diverse array of needs.