It's Official: Bette Midler Is Joining The 'Hocus Pocus' Reunion Special
by Valerie Williams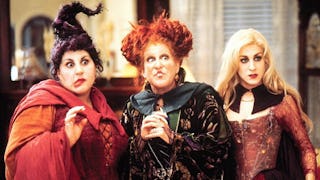 Image via IMDB/Disney
Bette Midler confirms she will be part of the "Hocus Pocus" 25th anniversary reunion
Proving once and for all that every now and then we can have nice things, it's been officially confirmed that The Divine Miss M, The Rose, Bette Midler, will reprise her role in the beloved Halloween classic Hocus Pocus. Midler played Winifred, the oldest Sanderson sister, and arguably, the best-loved.
Although I'm a Mary girl forever, fight me.
Midler took to Twitter to share a video of herself (in Winnie's trademark voice, of course) saying, "Wait, wait a minute. What's a Sanderson sister celebration without Winifred?"
WHAT INDEED.
The news comes nearly a month after Freeform announced there would be a Hocus Pocus 25th anniversary special, but at the time, there was no word on whether Midler would be part of it. But now we know she'll be joining former castmates Sarah Jessica Parker, Kathy Najimy, and Thora Birch as part of Freeform's 31 Nights of Halloween line-up.
However, the news of Midler's involvement probably won't come as a big surprise to anyone who follows her on Instagram, where she's spent the last few weeks teasing fans with caption-free stills from the film.
This exciting update for Hocus Pocus diehards comes after the announcement that the film will return to select theaters in the days leading up to Halloween. Naturally, true fans will want to stock up on merch from the cult classic, and thankfully, there's plenty of it.
The two-hour special, filmed at the Hollywood Forever Cemetery, will feature exclusive interviews with every Sanderson sister along with performances by Jordin Sparks, Dove Cameron, and more. It airs on October 20th at 8:15 PM EST on Freeform.
We can barely control our excitement and just might run amok, amok, amok until then.