Bette Midler Revives Winifred Sanderson In Epic 'Hocus Pocus' Halloween Costume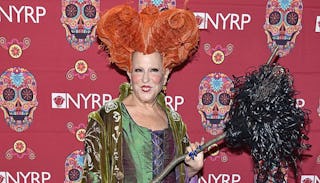 Image via Michael Loccisano/Getty Images
Bette Midler dressed up as her iconic character from Hocus Pocus for a Halloween costume party
Hold on to your children because Winifred Sanderson is back, and this time a virgin didn't have to light the Black Flame Candle in order to make it happen. Hocus Pocus was hands down the best Halloween movie from our childhood and clearly Bette Midler agrees. She revived Winifred for a New York City Halloween party hosted by the New York Restoration Project, a non-profit she founded in 1995.
I know you thought Max, Dani, Allison, and Thackery Binx (he was the talking cat, remember?), took care of the Sanderson sisters for good, but it's clear Winnie is alive and well, right down to her clawlike nails and iconic overbite. There's no word as to whether her dear Booooook made an appearance too, but it's said she went around cursing other guests on the red carpet. Sadly, she did not sing, "I Put A Spell On You."
Sarah Jessica Parker and Kathy Najimy weren't there, so Sarah and Mary weren't on hand to run amok as well. But all three actresses have said they'd be more than willing to hop on their broomsticks should Disney decide to make a sequel. Perhaps I'm just hopped up on sugar thanks to these peanut butter cups I've been stealing from the bowl that's supposed to be for trick or treaters but maybe, just maybe, Midler's Halloween outfit is a sign of things to come?
There are a lot of Halloween-themed cartoon specials and kids' movies out there. Watching most of them is like getting a Tootsie Roll while trick or treating. The sentiment is nice, but you're not going to cherish this moment forever. We're happy to park it on the couch with our kids and zone out while they watch, but we're scrolling through our phones when we think they're not paying attention to us. Watching Hocus Pocus is different. The movie may be 23 years old (yes, really!) but it's still just as exciting to watch as the first time you saw it. In my house I'm the one pulling out the DVD and begging my kids to watch it once the calendar hits October, and I bet I'm not alone.
Midler gave us a Halloween treat better than a full-sized chocolate bar by bringing Winifred out for a night this year. Maybe if we combine all of our powers this year we can finally get the Hocus Pocus sequel we've been longing for.
[free_ebook]
This article was originally published on