Beverly Cleary, Our Favorite Childhood Author, Turns 100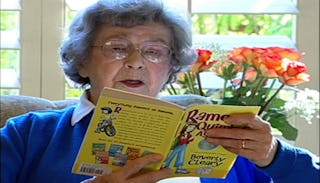 If I say "Beezus" and you automatically think "Ramona," then your childhood reading choices were nothing short of awesome.
April 12, one of the world's most well-known children's authors will be turning 100 years old. Her name is Beverly Cleary, but if you grew up spending your Saturday afternoons in the '70s and '80s browsing the shelves at your public library, you already knew that.
Beverly Cleary is the reason I became a librarian, and ironically enough, she was a librarian too. It was clear from an early age that she had a gift of telling stories, and she even recalls a time in grammar school when she wrote her first story, and her teacher said she was the only student in class who didn't need to do another draft. It was perfect the way it was, and a writer was born.
In 1949 when Cleary finally decided to sit at her typewriter one morning to write her first book, she imagined it would be a sweeping story "about the maturing of a sensitive female," but to her disappointment, no such words flowed out. Instead, she remembered a little boy who she had once helped while she was working at the library. He asked her, "Where are the books about kids like us?" and with that thought in mind, she typed the very first sentence of her very first book: "Henry Huggins was in the third grade."
She had an uncanny gift of getting into the heads of children and telling their stories with a youthful voice that children's literature had not yet seen before. Her first set of female characters totally broke the mold of what "girl" characters were supposed to be and how they were supposed to act. Enter Beezus Quimby and her infamous little sister, Ramona.
Cleary became the pioneer of writing about girls from a less-than-typical girl point of view—Ramona was no bashful tyke. She was anxious, curious, boisterous, fearless, and highly imaginative. Ramona was me, and I think she may have just been every other little girl like me who spent lazy summer afternoons under trees turning page after page and devouring the escapades of this refreshing and revolutionary young character. Ramona was the first girl in a book I remember reading about that was more than able to hold her own. As a matter of fact, she could hold the entire story.
Cleary went on to author several other well-known books, each time introducing us to another character we loved and could relate to—Henry Huggins, Socks the Cat, Ellen Tebbits, Muggie Maggie, and even a motorcycle riding rodent, Ralph S. Mouse. But perhaps Cleary's greatest achievement was winning the 1984 Newbery Medal, the highest honor given in children's literature. It was for her book Dear Mr. Henshaw, a novel about the relationship between a sixth-grade boy and his favorite author, told through the letters they share. She's also been named a Library of Congress Living Legend and holds a National Medal of Arts, as well as hundreds of other writing awards and accolades.
To this day, I credit Beverly Cleary's writing for being my gateway drug to the world of books and for instilling in me a love of reading that has never gone away. Her books have sold almost 100 million copies and have given the gift of reading to several generations of young people, including my own children.
This month we will join the nation in celebrating D.E.A.R. Day. D.E.A.R. is a national, monthlong celebration of reading designed to remind folks of all ages to make reading a priority in their lives, and it's held nationwide on April 12, in honor of Beverly Cleary's birthday.
Thank you, Beverly Cleary. Thank you for being an unforgettable and ingenious voice of young girls and boys, for giving me my childhood best book friends, and for filling up my young days with words, imagination, imagery, and ultimately, inspiration. May your voice keep telling stories for many more generations of readers.
This article was originally published on