Tori Spelling Confirmed A Reboot Of 'Beverly Hills, 90210'
by Christina Marfice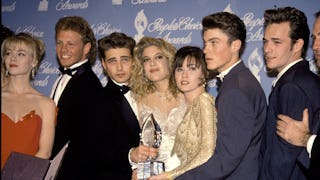 Image via Vinnie Zuffante/Getty Images
After almost 20 years, Beverly Hills, 90210 is headed back to TV
Reboots are all the rage right now. After the success of shows like Fuller House, Roseanne and Charmed, we can't help but wonder which classic show will be next to get the reboot treatment. Well everyone, the TV gods have delivered us a gift in 2019: Beverly Hills, 90210 is officially slated for a revival.
There have been rumors for years that the class of West Beverly 1993 would return to the airwaves. But this time, star Tori Spelling appeared on Access to officially break the news. This is happening, folks.
"It's confirmed," she said. "We're doing a new 90210."
And it gets even better.
"It is the OG crew back together and we're playing heightened versions of ourselves," Spelling explained. "The fans will be pleasantly surprised though, because we will intercut that with scenes from the show. So it'll be a whole ensemble cast playing a heightened version of themselves. Almost everybody."
We're not exactly sure what "heightened versions" means, but we're definitely intrigued by the "almost everybody" that Spelling dropped. What does that mean? Who exactly is going to be involved?
Spelling wasn't ready to drop a cast list, but she did reveal that Shannen Doherty isn't on board (yet), and that Luke Perry will be more of a recurring special guest than a main character, since he's currently busy with his role on Riverdale.
"If she's watching, we would love to have you do it," Spelling said of Doherty, and of Perry's role, she added that he "will do as many [episodes] as he can do."
Spelling also revealed a little bit about the format of the show, though TBH, it left us with a few more questions than answers.
"Think Curb Your Enthusiasm episodes, in an hour long show, and we're all playing heightened versions, so it could be fictional, it could be non-fictional, people will have to guess. And then we will have pop-ins, because we're behind the scenes trying to do the reboot," she said.
There's that "heightened versions" line again. Still not sure what that means.
While this is obviously huge TV news, the cast so far is staying pretty quiet about it. None of the original main characters, including Spelling, have made a peep about the revival on their social media. Now that the word is out, though, it's probably only a matter of time.
Oh, and did we mention the show is set to air sometime in 2019? According to Spelling, that's as long as we'll have to wait.
We've already waited 18 years since the original show wrapped up its decade-long run in 2000. Another few months won't be too bad. In the meantime, we'll just be at The Peach Pit, because nothing passes the time like a slice of peach pie.
This article was originally published on