'Beverly Hills, 90210' Reboot Cancelled After Just One Season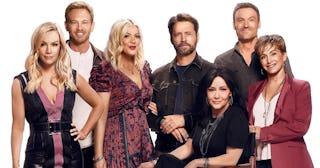 FOX/Getty
BH90210 is tragically finished after just one season on air
If you were a big fan of BH90210, the revival of the 1990s classic series Beverly Hills, 90210, then we have some pretty rough news. The show won't be returning for a second season.
Fox provided a statement to US Weekly saying, "We are so proud to have reunited in a very special summer event, one of the network's legacy series and casts with 90210 fans across the country. Profound thanks to and respect for Brian, Gabrielle, Ian, Jason, Jennie, Shannen and Tori, who, along with the entire crew and everyone at FOX and CBS Television Studios, poured their hearts and souls into this truly inventive and nostalgic revival."
Speculation that the series would not be returning was fueled by Brian Austin Green's response to a fan on Instagram earlier this week asking if the show would return for a second season. "No more," he replied. "Sorry."
Then, Green took to the 'Gram once more with a shot of the Peach Pit set and a rather final-sounding message for fans. "What a fun trip back. Thanks to the fans."
The show premiered in August and ended in September after airing six episodes. Rather than fictional characters, the actors played hyped up versions of their real-life selves. But it sounds like the cast might not have been planning on more than this first season. Shannen Doherty told Us Weekly when the show premiered, "I think we should just focus on the six because — no projecting into the future," she said. "Right now, it's this very awesome miniseries special event that's very cool, and I personally love that because I think the audience gets in, they get that flavor of all of us, what they wanted to see us doing, they get some nostalgia in there for summer. It's the perfect summer thing."
Co-star Tori Spelling hoped it might last longer "We would love to continue to work together," she said at the TV Critics Association's summer press tour. "It's been such an amazing experience. I liken it to high school when you think, 'Oh, you never get a chance to do a do-over,' and there are things that you know now that you didn't know then that you would've done differently and we get that opportunity."
Of course, the whole reunion took on a more somber tone with the news of co-star Luke Perry's untimely passing after a stroke earlier this year. He was not slated to participate in the revival at the time of this death.
The whole cast seemed very excited to be working together again and during the lead up to the series airing, posted their happy feelings on social media several times. Doherty happily shared with fans that the reboot was "official" along with a great throwback pic.
When the news broke that the revival was happening, Jennie Garth wrote, "Ladies in floral! I can't believe this is happening."
https://www.instagram.com/p/BwvCkiOgJoh/?utm_source=ig_embed
Spelling posted that she was "excited to go on this journey" with her former co-stars, tagging Doherty, Garth, and Gabrielle Carteris.
Even without the revival coming back, we will always have all 293 original episodes of the generation-defining series to binge-watch, and for that, we're always grateful.