There's A 'Bewitched' Reboot Coming And We're Twitching Our Noses With Happiness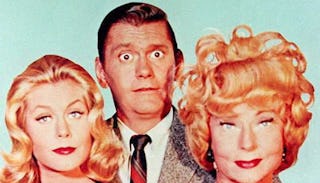 Image via FILES/AFP/Getty Images
Bewitched is heading backing to television, with a whole new twist
Alright everybody, prepare to wiggle your noses one more time. There's a Bewitched reboot in the works, which means that we'll officially get Samantha and Darrin Stephens back in our living rooms, right where they belong. Endora is also invited, provided that she behaves herself.
Black-ish creator Kenya Harris is spearheading this new project for ABC, Deadline reported. It will be a single camera family comedy that revolves around Samantha, a hardworking black single mother/witch, and Darren, a white mortal who is "a bit of a slacker." The show won't just be about magic and hijinks. It'll also take a look at the unfair discrepancies that black women and white men face in the world.
This is the third time that television networks have tried to reboot Bewitched (CBS in 2011 and 2012, NBC in 2014), so I'm keeping all fingers crossed that this one works out. And also maybe throwing in a little nose wiggle for good measure.
Side note: if you are not currently feeling ~feelings~ over the Stephens family coming back to television (I see you Twitter), please immediately rewatch the original Bewitched theme song and prepare to get all the nostalgic witchy tingles. I mean, we're getting a Charmed reboot and a Sabrina the Teenage Witch reboot. It would be weird if we didn't head back to Wesport, CT one more time as well (and the Kravitzes better still be next door).
Of course, there's a little bit of weird stigma surrounding this adaptation, given the flop that was the 2005 Will Ferrell/Nicole Kidman Bewitched film. That one revolved around a movie star who decides to star in a Bewitched reboot (yup, getting pretty meta here) and then accidentally casts a real witch to play Samantha.
The film has a paltry 25% rating on Rotten Tomatoes, with reviews that include: "What the hell is Will Ferrell doing to his career?" (New York Magazine), "By the tepid ending, the movie appears to have been sedated" (Newsweek), and "If it lost every bad idea, miscast actor, wasted performance, and botched scene, nothing would be left but the end credits" (AV Club).
So, um, yikes. Here's hoping that this ABC version lives up to the true glory of the original. The world can use all the Samantha magic it can get right about now.