NBD Just Beyonce And Blue Ivy At Target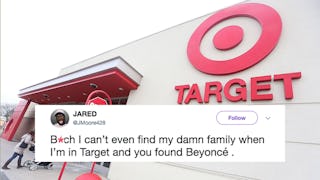 Image via Vince Talotta/ Getty Images/Twitter
Fans at Target spotted Beyoncé shopping like it was NBD
Have you ever spotted a unicorn that wasn't just a pair of really cool slippers? No? Well, you're about to see the next closest thing to a mythical creature in the wild, because observant shoppers documented Beyoncé and her daughter, Blue Ivy, browsing through a Target store like it was the most natural thing ever. Because even Beyoncé can't resist being hypnotized by that big, red bullseye.
Beyoncé, her daughter, and her mom, Tina Knowles-Lawson, were spotted at a Target in San Clemente, California, and the internet is losing its chill. Can we blame them? Hello, it's freaking Beyoncé. While we want to let the woman have her privacy, we also can't help but squeal that she loves our favorite mom haunt as much as we do.
Fans got photos to prove it happened (because it's 2017 and that's the only way we'll buy it) and it looks like Yoncé didn't even try to hide aside from a pair of sunglasses, which did nothing to mask her glowing aura. Target shoppers immediately took to Twitter to share the miracle they were witnessing in aisle seven.
Holy friggin' shit, it's her. Imagine pushing your cart, shoving Goldfish crackers in your toddler's mouth so you have any hope of getting everything you need (plus, four throw pillows you don't need) before they melt down, and realizing Beyoncé is there. I would need to be revived and I'm not sure my usual Target trip Starbucks frappe would be enough.
She was spotted looking at bikes, toys, and booster seats. Because even celebrities have to pick up the mom basics. Sure, she could've sent someone to do this for her, but Beyoncé realizes what us moms have long known — Target. Is. Gold.
LOOK AT HER.
https://twitter.com/jetpack/status/938870686336016384
It is pretty incredible that of all things to find at Target, Mrs. Carter was there. This man basically captures how any of us who have lost a loved one in the seasonal decor section feel when hearing the news.
Some people were frankly stunned that any footage was captured at all without the Queen Bey's security quashing it.
https://twitter.com/jetpack/status/939162438775246854
But yesterday was a day of blessings for sure. We got an early Christmas present, y'all.
Like, no, I absolutely can't imagine it. But a few lucky people got to see it go down, and we're so grateful they let us share in their amazing fortune.
This article was originally published on