The First Teaser Of Donald Glover And Beyoncé's 'Can You Feel The Love Tonight' Is Here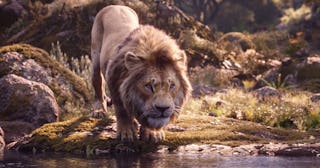 Disney
Donald Glover and Beyoncé were made to sing together
Good morning, Disney fans — and boy, do I mean good freaking morning. Today is the day we have been waiting for for more than an entire year, since the cast for the live-action remake of The Lion King was announced all the way back in November of 2017. Today is the day we get to hear Donald Glover and Beyoncé sing together.
Yep, this is basically the most exciting thing ever to happen, so before I say any more words, here's the video so you can listen to that sweet, sweet vocal perfection.
Bless the Disney gods for gifting this to us, pretty much exactly one month before the film's July 19 release date. Is it too early to start lining up at the theater? I'd say I'm asking for a friend, but I am absolutely not.
Obviously, everyone who was born between 1985 and 1995 has been hungrily devouring every teaser, every trailer, every tiny tidbit of news and every video clip to hit the net about this movie, and for good reason. The Lion King is one of the most iconic Disney masterpieces to come from our childhood, and while we're definitely driven by a healthy amount of nostalgia, there's also the fact that all signs point to Disney knocking this one out of the park.
First of all, there's the cast. James Earl Jones is back as Mufasa. Donald Glover is Simba. Freaking Beyoncé is Nala. John Oliver is Zazu, Billy Eichner is Timon, and Seth Rogan is Pumbaa. It's putting it lightly to say the cast is un-freaking-believable.
But naturally, we've been waiting not-so-patiently for a chance to hear what Glover, AKA Childish Gambino, and Beyoncé would do with their starring roles. Now we know that their voices blend so perfectly and harmoniously, it's like they were literally born to sing duets together. For real, post-Lion King we can only hope they release a collaboration album because OMG, they sound so perfect together.
Even though the new teaser features just a few lines of "Can You Feel the Love Tonight," (interspersed with that iconic Mufasa voiceover courtesy of Earl Jones), this video has made us even more excited to finally see this remake. Based on everything we've seen about the movie so far (including the breathtaking full-length trailer that dropped in April), we truly are not ready for how great it's going to be.
There's now less than a month to go until we can settle into our theater seats and weep to the full version of this song (and the rest of the soundtrack, which promises to be just as beautiful). Until then, no judgment if you queue up the original soundtrack and just leave it on repeat until then. It's what I'll be doing.