Beyoncé Just Dropped A Holiday Merch Line And It's Perfect
by Megan Zander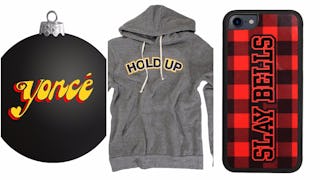 Images via Beyonce.com
'Yes please' to all of it
Grab your holiday wish list and tear it up, immediately. Beyoncé just dropped a line of branded merchandise with some things that are perfect for the season, and everything she's unveiled — seasonal or not — is going to shoot straight to the top of your want list.
Get real — unlike that Instapot you thought you wanted — you'll use the shit out of this hoodie ($60).
Both the Boy Bye and Slay Bells phone cases ($30 each) are fantastic, so if you can't decide, say screw it and get both.
Or, grab this nutritional facts phone case ($30) that lists out all the makings of a bad bitch (contains 179 g of Attitude) or one for shinin' through all four seasons ($30).
This mug ($20) is everything.
Because this business woman is also a new mom, Bey included things for the little ones in her line of new gear. This onesie ($30) pretty much says what all infants are thinking.
Queen Bey even has our holiday decor covered. These Yonce satin ball ($12) and enamel bee ($24) ornaments will cement your status as a member of the Beyhive. Plus they look awesome.
There's also a self explanatory ornament ($12) and one with Beyoncé herself ($12) on it. Who doesn't want a Christmas tree that doubles as a low key shrine to one of the most talented humans on the planet?
The collection goes on and on, like a Toys R Us Christmas catalog for feminists. There's this pullover ($55) that looks like it will be totally comfy to wear as it helps you tell haters to fuck off.
These are the underwear you put on when you're looking to please no one but Y.O.U. ($50 for set).
This shirt ($35) will wins every Christmas sweater party contest, hands down.
This Wake, Pray, Slay journal set ($25) comes with pencils, and might actually inspire you to stick to that resolution you make every year to start writing.
We might not know when Beyoncé's next album will drop or when we'll see her dominate a concert stage again, but thanks to this new holiday collection and her other fresh merchandise we have plenty of Bey-related things to be grateful for this holiday season.