Beyoncé Just Released Her First Single From 'The Lion King'
by Christina Marfice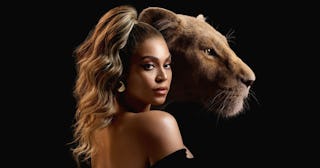 The Lion King/Twitter
It's not "Can You Feel the Love Tonight," but this single from The Lion King is Beyoncé at her best
The countdown is on, and The Lion King, one of Disney's most anticipated live-action remakes of all time, will be released in theaters nationwide in just eight days. If you're like me, you're already struggling with the wait, so God bless Beyoncé, who has provided a treat from the movie to help hold us over for the final week.
It was just surprise revealed yesterday that Bey would release a full album alongside the movie, called The Lion King: The Gift. And she just dropped her first single from that album. Here, have a listen, because it is truly too incredible to wait for.
According to Fandango, Bey collaborated on the song with Lebo M, a South African composer who arranged and performed much of the music for the original film and its stage production. Film score composer Hans Zimmer also lent a hand.
"They were all collaborating with her and helping to bring this new piece of music into a film where there's already a very established musical personality to the piece," director Jon Favreau said. "So it was nice of them to have them working with her to allow the new song to feel organically a part of the new production."
What's unclear is how many songs, if any, from Beyoncé's companion album will be a part of the movie's soundtrack, but what's crystal clear is that this is a standalone piece of art that any Lion King fan will have to have. According to Disney, the album is "featuring global artists & steeped in the sounds of Africa," and Bey produced the entire thing.
What's even better is that Bey made sure to include performers and producers from Africa, bringing some of the best performers on the planet with her into the spotlight.
"It was important that the music was not only performed by the most interesting and talented artists but also produced by the best African producers. Authenticity and heart were important to me," she explained.
The Lion King movie is steeped in the kind of representation not often seen in Hollywood, and this album is clearly an extension of that. It's a celebration of The Lion King's African roots, and I for one could not be more here for it.
Disney has come under fire in recent weeks for its efforts to diversify its casting, after it was announced that black actor Halle Bailey will play Ariel in the upcoming live-action remake of The Little Mermaid. The announcement inspired a racist backlash that Disney has not responded to or even really acknowledged, so good on them.
Beyoncé's full Lion King album will be released alongside the film on July 19.
This article was originally published on