Beyoncé Made A Movie For Netflix And Blu Ivy Shines In The Trailer
by Christina Marfice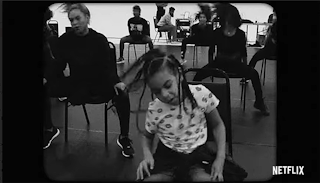 Image via Netflix
Beyoncé isn't the star of her Netflix documentary trailer — Blu Ivy is
Beyoncé has a highly anticipated documentary about to hit Netflix, and now that the movie's full-length trailer has been released, we're getting our first look at what this film is going to cover. Oh, and goosebumps, we're also getting a whole lot of goosebumps.
The trailer reveals that the film, called Homecoming, will take viewers behind the scenes of Bey's absolutely epic, show-stopping headliner set at Coachella last year. You know the one — it was renamed "Beychella" after the Queen took the stage.
But what we didn't expect from this trailer was for someone other than Queen Bey to take center stage. Reactions to the trailer reveal that Beyoncé might just not be the star of this film — that title is apparently going to go to her 7-year-old daughter, Blu Ivy.
Bey is pretty particular about keeping her fame and her family life separate, so public glimpses of Blu are few and far between. But she does feature in this trailer, and in the most fierce ways possible.
Truly, the kid has moves. She has poise. She has power. And her people are noticing.
Nobody expected that the star of a film about literal Beyoncé would be a grade schooler, but we can't argue with facts. And the facts in this case are that Blu Ivy was born to slay. And slay she does. Surely there will be some people watching this movie purely for the glimpses it may offer of our youngest visionary. Also, Bey's twins, Rumi and Sir, who have nary shown their faces in public since their birth, can be glimpsed for the slightest moment in time at 36 seconds into the trailer. You are welcome.
The trailer, which comes in just under two minutes long, features a collection of short scenes showing Bey and her dancers and band rehearsing, all alongside a chill-worthy voiceover from an interview from poet and civil rights activist Maya Angelou.
"What I really want to do is be a representative of my race," Angelou's voice is heard saying, before the video launches into critical praise of Beyoncé's Coachella performance, like "Writes herself into history" and "An education in black expression."
The trailer shows us the film is going to be just as jaw-dropping as we already knew it would be, once it drops on the streaming platform in just over one week, on April 17. Only one thing is certain: We are not ready for this greatness.
Other details about the film are scarce, but we do know now that it's a "film by Beyoncé," meaning Bey may have been very heavily involved in its production and direction. Regardless, we know it'll be a work of art, because everything she produces is.
And the fact that her babies are featured and lending all their beauty to this film sure isn't going to hurt. Congrats on your big screen debut, Blu Ivy. We haven't even seen it yet and we already know you deserve an Oscar.