Beyoncé Announces TWIN Pregnancy In Gorgeous Instagram Post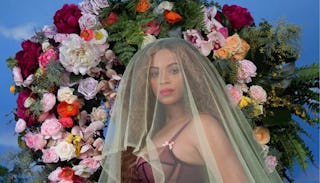 Image via Instagram
Blue Ivy's going to be a big sister, times two
Beyoncé Knowles Carter, wife to Jay-Z and mom to Blue Ivy, just made a huge announcement on her Instagram account. The singer/goddess is pregnant with twins!
Having shared the news of her last pregnancy in flashy fashion, happily rubbing her belly in front of the crowd at the 2011 MTV Video Music Awards, her announcement this time around is decidedly more sedate.
But no less totally freaking exciting for her fans.
She writes, "We would like to share our love and happiness. We have been blessed two times over. We are incredibly grateful that our family will be growing by two, and we thank you for your well wishes. – The Carters"
SQUEAL.
Obviously, she looks amazing in the photo. Because she's Beyoncé and even the exhaustion of early pregnancy can't stop her from glowing.
No further details about her due date or the babies' genders are available, but this information is fantastic enough on its own. We can't wait to hear more as the special day gets closer.
Congratulations to Beyoncé and family!
This article was originally published on