Beyoncé's Grammy Performance Was An Epic Tribute To Motherhood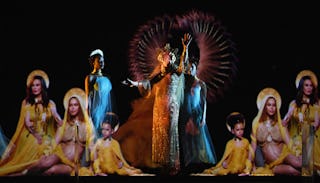 Image via Kevin Winter/Getty Images
Beyoncé's Grammy performance was an epic tribute to motherhood
In its best moments, pregnancy can be the most badass a woman will ever feel. There's something uniquely empowering about growing a whole fucking human that's hard to explain. Thankfully, we'll never need words again, because Beyoncé pretty much summed up the glory of pregnancy and motherhood as only Beyoncé could, in the most epic performance at last night's Grammy Awards.
Yes, that is pregnant Beyoncé performing next to a hologram of pregnant Beyoncé. She was introduced by her mother — and proceeded to recite a poem that led into a performance that made moms everywhere feel 100% badass.
Beyonce performed two tracks from "Lemonade" — "Love Drought" and "Sandcastles" — sung between poetic lines, that started with these…
Do you remember being born?
Are you thankful for the hips…
The deep velvet of your mother, and her mother, and her mother?
You look nothing like your mother, everything like your mother
You desperately want to look like her
How to wear your mother's lipstick
You must wear it, like she wears disappointment on her face
Your mother is a woman
And women like her, will not be contained.
Yes, she killed it. Here it is:
This article was originally published on