Biden Announces Plan To Purchase Another 100 Million Johnson & Johnson Doses
by Christina Marfice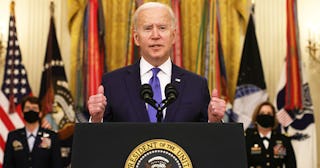 Alex Wong/Getty
Joe Biden's next vaccine deal could get us closer to the end of the coronavirus pandemic in the U.S.
Vaccine distribution efforts all over the U.S. are picking up steam, and as of this week, nearly one in five Americans has received at least one dose of a coronavirus shot. The Biden Administration is working hard to secure even more doses, and will reportedly announce later today a deal with Johnson & Johnson for 100 million more shots — enough to vaccinate every American.
The Johnson & Johnson shot is a huge game-changer because it's the first one to receive emergency use authorization in the U.S. that only requires one dose — both Pfizer and Moderna, the other two companies that produce approved vaccines, require two doses of their shots per person. That means that the new deal, which President Biden is expected to announce later today, will provide the U.S. with enough shots to fully vaccinate every American — including children, who are not yet eligible to receive any of the approved vaccines because they're still undergoing safety and efficacy trials for kids.
The Biden Administration struck up this latest deal after meeting with Johnson & Johnson and Merck, a competitor pharmaceutical company that failed at its own vaccine bid, then volunteered to help manufacture the Johnson & Johnson vaccine so more doses could be produced more quickly. Clearly that combined effort worked, and the U.S. securing this many shots is a huge cause for celebration and relief. Once all these shots are distributed, enough Americans will be vaccinated that it's possible for the pandemic to end in the U.S. Plus, the new Johnson & Johnson doses provide a buffer, in case Pfizer or Moderna run into production snags and aren't able to produce as many shots as expected.
This news comes after Biden announced last week that his administration had secured enough vaccine doses to vaccinate every American adult by the end of May. Distribution of all the vaccines will likely take longer than that, but for the first time in almost a year, there's a true light at the end of the very long and difficult tunnel.
Getting these vaccines into people's arms is how we'll send kids back to school, reopen all businesses, give out hugs again, and go back to normal life — or something closely resembling it. The Biden Administration has taken charge and done the work, and we should be forever grateful that a competent president was elected at this incredibly important time in our nation's history.