The Biden Administration Is Offering Funding To Schools With Mask Mandates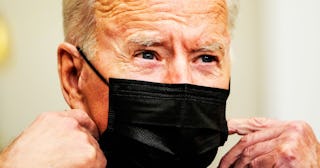 Drew Angerer/Getty
We are living in unprecedented times. The delta variant is surging and children are feeling the effects. They are not just infected, but they are being affected. Thankfully, there are masking rules in effect in large urban school districts nationwide. Nine out of ten districts are requiring masking according to a new survey and many teachers are required to be vaccinated. But President Biden does not think that is enough and is making stronger rules and offering incentives for enforcing them.
The President is starting with state governments asking them to require vaccines for all teachers and school staff. The White House said in a statement that there are nine states and The District of Columbia currently requiring vaccinations. In addition, all employees of schools run by the Department of Defense and The Bureau of Indian Education, which employee nearly 300,00 and educate more than 1 million students, must be vaccinated.
"Building on Administration policies to require vaccination among federal employees, including those serving children in DOD and BIE schools, the President is asking more states to join in requiring the vaccine for school employees to make sure we are keeping students safe," the statement read.
In order to do this, masking and vaccine requirements need to be stricter, not optional as is the current fight in Florida. Governor Ron DeSantis filed an executive order allowing parents to choose whether or not their children would wear masks in school and threatened to take away funding to those schools defying the order. A judge quickly overturned this. But the battle wages on. Biden wants that to stop. He is offering funding to schools that defy the order.
"Now, President Biden promises to fill in any gaps in funding that result. This goes above and beyond the $122 billion set aside for school reopenings in the American Rescue Plan. According to the White House, 'Local school districts will be able to apply to the Department of Education in the coming weeks to restore funding withheld by state leaders … when a school district implemented strategies to help prevent the spread of COVID-19 in schools,'" a statement read.
But it isn't all great news. There are still issues with quarantine that have parents concerned. The CDC recommendations have changed and become more lenient. Now, only those unvaccinated students, who were in contact less than three-feet away for more than 15 minutes are required to quarantine.
After pressure from parents, Denver Public Schools recently began to disclose if there were positive cases and in which classroom, the New York Times reported. In effect, this gives parents the choice as to whether or not they will quarantine their child. In Portland, schools cannot identify positive cases due to student confidentiality
"We've been really careful with our mitigation strategies and layered approach, so we're very confident in who is potentially exposed and who isn't," said Brenda Martinek, the district's chief of student support services told the New York Times. "So what I'm hoping is that our school communities will trust that."
Masking, vaccines, and unfortunately quarantines, are the way of our world right now. Without a vaccine available for those 12 and under, who remain a large and vulnerable group, it is the responsibility of our schools and leaders to take the pandemic seriously and establish rules and enforce them.
The Biden Administration is working hard by offering funding to those who defy and require mask mandates. It is urging our state governments to require vaccines of teachers and school employees to keep our students, and themselves safe and healthy. We will not be able to kill this beast without higher vaccination rates among those 12 and up.
Reuters is reporting that a Pfizer COVID vaccine for children aged five to 11 could be authorized by the United States and available here as early October. This anticipated timeline is dependent upon Pfizer's ability to use data from clinical tries and its ability to seek emergency use authorization from the U.S. Food and Drug administration by the end of September.
There is hope that the FDA could make a decision as to whether the vaccine is safe for younger children in as little as three weeks after the EUA submission. A vaccine for those five to 11 would be a dream come true for many parents. The fear of COVID and the unknown is palpable among many. Until this vaccine is approved, we must remain vigilant in the safety protocols that we currently have in place.
It is imperative that children 12 to 18 receive their vaccine to help mitigate the spread in schools. And as we preach all the time, adults must get vaccinated. With three options and availability for free vaccination daily, there is no longer any excuse.
This article was originally published on