I'm A Queer Parent With A Trans Daughter — And Biden Makes Me Feel Hopeful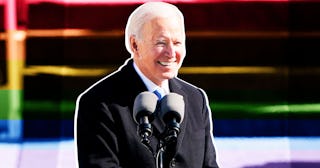 PATRICK SEMANSKY/POOL/AFP/Getty
I'm a nonbinary queer person who is a parent to three kids, one of whom is transgender. My partner and I are in a long distance relationship; I'm in a more liberal part of the northeast, and she lives in a conservative part of the south. The way our country is set up means states can govern themselves and create different laws around the same topics, such as housing, employment, health care, and marriage.
Some states are safer for LGBTQIA+ people to live in than others, but federal protections overrule state bigotry, and people, no matter where they live, should have access to basic human needs. Trump worked to take away as many of my protections as possible, but Joe Biden is projected to be the most pro-LGBTQIA+ president — and I can safely say that my life depends on it.
If Trump can be complimented for anything, one can say that his hate game is strong, particularly when it pertains to the LGBTQIA+ community. Trump recorded 180 anti-queer statements and actions during his term as president. He stripped away protections from anti-LGBTQIA+ discrimination in health care settings, allowed foster agencies to deny queer couples from adopting, made it legal to turn away transgender people looking for shelter at homeless centers, and banned transgender people from the military. He created a conservative Supreme Court which will last much longer than his presidency. And those were just his top hits. He has enabled the United States to be an unsafe and unwelcome country for LGBTQIA+ people. Trump was also really good about surrounding himself with other spiteful and bigoted "leaders," including Betsy DeVos. On her last day in office, she decided to be extra evil and double down on her efforts to put transgender and queer students at risk.
There is not a federal law that has consistent anti-discrimination protections based on sexuality or gender identity. One way Biden says he will protect LGBTQIA+ Americans is by enacting the Equality Act within his first 100 days in office. The Equality Act would provide clear and inarguable protections in all aspects of our lives including: schools, work, public spaces and services, and federally funded programs. According to the Human Rights Campaign, almost 2/3 of queer Americans have reported discrimination in their lives. Right now LGBTQIA+ people rely on the Civil Rights Act of 1964 and other acts that are meant to provide equity and equality for other minority groups, but they don't specifically include sexual orientation and gender identity as protected traits. This leaves too much up to the courts and too many cases of discrimination that are never seen or dealt with. According to his website, Biden's plan is to direct his Cabinet "to ensure immediate and full enforcement of the Equality Act across all federal departments and agencies."
Biden has already followed through with his promise of making his team resemble the queer people he wants to protect. The Biden-Harris administration has two lesbians of color on staff; transgender veteran Shawn Skelly and Dr. Rachel Levine (a transgender woman who has been leading Pennsylvania's fight against the pandemic and the state's secretary of health) have been tapped as team leaders, and Pete Buttigieg has been picked as the country's first gay Cabinet member. His friendship with and respect for Delaware State Senator Sarah McBride (who happens to be transgender) will keep Biden's feet to the fire when it comes to protecting transgender people, specifically transgender women of color and transgender youth.
While adding new protections for queer folks, Biden is set to reverse the harmful bans and acts Trump created in office. And Biden wants to stop our erasure by allowing — gasp! — science to decide if people can donate blood instead of their sexuality. He wants our data to be collected through the LGBTQ Data Inclusion Act to be sure subgroups within the queer community are getting their needs met. Collecting data will bridge physical and mental health gaps and will help queer people get the care they need so that our numbers of unnecessary deaths decrease. His policies intend to end conversion therapy, restore funding to Planned Parenthood, and will add inclusivity and sensitivity training in schools, the workplace, and in prison and juvenile detention centers.
Can it be so, Joe? The man has a lot on his plate, but I caught a feeling of hope when he mentioned transgender voters in his acceptance speech. It was the first time I felt seen by someone who has power to make my life better and safer. For the first time, I let myself believe that my transgender daughter will have access to hormone blockers and other medical interventions when she needs them, and we will have health insurance to cover at least part of the expense. I exhaled some of my fear and breathed in a future that is more deserving for all queer people.
I know Biden can't do everything he has outlined in his plan, but addressing the many risks to the queer community — including violence, homelessness, mental health, and abuse — tells me he is paying attention and learning. Instead of constantly waiting for the next anti-LGBTQIA+ bill to be introduced, I'm waiting for a government that will provide opportunities. Joe Biden is writing my family (and my community) back into the narrative of this country, and I hope it will be enough to never be erased again.
This article was originally published on