Champ & Major Biden Have Arrived At The White House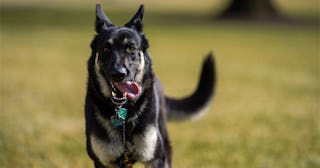 Adam Schultz/Official White House
The Biden fur babies have finally arrived
The Bidens have officially reunited with their dogs, Champ and Major, who moved into their new digs on Pennsylvania Avenue on Sunday, days after President Biden was sworn into office. Notably, Major is the first shelter dog living in the White House.
Champ and Major, both German Shepherds, are getting the lay of the land and will seemingly have the run of the house because they are Very Good Boys and they deserve it. The Bidens, much to everyone's glee, moved into the White House last week and said their fur-babies would be a few days behind so they could get settled in.
"The First Family wanted to get settled before bringing the dogs down to Washington from Delaware. Champ is enjoying his new dog bed by the fireplace, and Major loved running around on the South Lawn," First Lady Jill Biden's press secretary Michael LaRosa told CNN.
Champ joined the Biden family in late 2008, just before they moved into the vice presidential mansion in Washington. In 2018, right before he announced he would be running for president, the family officially became a doggie family of four when they adopted Major through the Delaware Humane Association. Earlier this month, the shelter and Pumpkin Pet Insurance hosted a virtual "Indoguration Party" for Major to honor his celebrity, as one does.
https://www.instagram.com/p/CKeKgYxgldJ/
The best part about champ and Major's arrival is that the country finally has dogs back in the White House after a four-year hiatus. Former President Donald Trump was the first president in the White House not to have a dog in over 100 years. He told supporters at a rally in 2019 that he "wouldn't mind having" a dog, "but I don't have any time."
Look how happy he looks!
The tradition of having pets in the White House dates back to Thomas Jefferson, who had a mockingbird and a couple of bear cubs at the residence during his presidency. Now that would have been fun to watch.
https://www.instagram.com/p/CKeKvW4giau/
Fancy yourself more of a cat person than a dog person? Jill Biden may just come through for you. She told Fox 5 in Washington that she would "love to get a cat," adding that she "loves having animals around the house."
White House press secretary Jen Psaki told reporters on Sunday that she did not have an update about the cat. "I'm also wondering about the cat, because the cat is going to dominate the internet whenever the cat is announced and wherever that cat is found," Psaki joked. She's absolutely not wrong — the internet loves a cat.
Here's hoping by the time Biden settles into this first year as president that the White House is filled with animals because they (and we) deserve it after what we've just endured.