Biden Resurrects Women's Issues Office That Trump Disbanded
by Kristine Cannon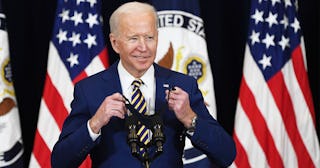 SAUL LOEB/Getty
Trump disbanded an office focused on women's issues; Biden's bringing it back
It's been — checks calendar — just over two weeks since President Joe Biden's inauguration, and since, he's made major waves in the White House — from overturning Trump's ban on transgender people serving in the military to repealing one of Trump's major anti-abortion policies (the "global gag rule"). Now, Biden's resurrecting an office specifically focused on women's issues — one that Trump disbanded shortly after taking office in 2017.
With gender equality clearly at the forefront of Biden's administration's policies, Biden created a new Gender Policy Council within the White House. It's what NPR describes as a "reformulation of the Obama administration's White House Council on Women and Girls."
According to The Hill, the White House Gender Policy Council will be co-chaired by Jennifer Klein, chief strategy and policy officer at TIME'S UP, and Julissa Reynoso, the incoming assistant to the president and chief of staff to Dr. Jill Biden.
"Major structural disruption requires major structural change," Klein tells the outlet. "Thinking big right now is exactly what we need to do. So, now's the time."
According to the Biden-Harris transition team, the council will help "guide and coordinate government policy that impacts women and girls, across a wide range of issues such as economic security, health care, racial justice, gender-based violence, and foreign policy, working in cooperation with the other White House policy councils."
In other words, the implementation of this council emphasizes a government-wide focus on advancing and protecting the rights of people of all genders in the U.S. and beyond.
The new council follows the release of a new analysis by the National Women's Law Center that showed how women, especially those of color, were disproportionately hit in the job market amid the pandemic. The analysis also revealed that, in December alone, women lost 156,000 jobs while men gained 16,000 jobs.
"Too many women are struggling to make ends meet and support their families, and too many are lying awake at night worried about their children's economic future," Biden says in the announcement. "This was true before the COVID-19 pandemic, but the current global public health crisis has made these burdens infinitely heavier for women all over this country."
Biden continues to say that the work of the council will be critical to "ensuring we build our nation back better by getting closer to equality for women and to the full inclusion of women in our economy and our society."
Harris adds that all Americans deserve a fair shot to get ahead, "including women whose voices have not always been heard, and that the incoming administration will pursue a comprehensive plan to "open up opportunity and uphold the rights of women in our nation and around the world."
"I look forward to working with these deeply knowledgeable and experienced public servants to address the challenges facing women and girls, and build a nation that is more equal and just," Harris says.
The Institute for Women's Policy Research (IWPR) applauded the new council, stating that they look forward to working with Klein and Pantaleón — and the larger women's community — "to advance an agenda that will build women's power and influence in society, accelerate the closing of the pay gap, strengthen our care infrastructure, protect and defend women's reproductive freedom and autonomy, and help end sexual violence and harassment, among many other issues."
"Under the Trump administration, we saw many of the gains made by women slip away or be challenged at the federal and state levels," C. Nicole Mason, Ph.D., IWPR President and CEO, continues to say in the organization's statement. "Given the disproportionate impact of the COVID-fueled recession on women, particularly on women of color, in partnership with the Council, we have an opportunity to create policies that reflect our values and that will create a more just and equitable society and world."