We Need To Fix Education Funding Disparities ASAP — Biden's Plan Will Get The Ball Rolling
by Christine Organ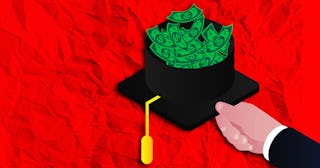 Scary Mommy and sesame/Getty
The Biden team has had its work cut out for them since taking office in January. They aren't just trying to correct the four years of damage done by the previous administration, but to also improve systemic problems that have plagued the country for decades or maybe even centuries. One of those systems in dire need of improvements – public education funding.
The inequities in public education funding are so deep and pervasive that the challenge seems insurmountable. But thankfully the Biden administration is gonna try.
Specifically, the administration's education funding plan includes a $20 billion program for high-poverty school districts, with states getting additional funding if they "address longstanding funding disparities" between rich and poor districts.
I'm a bit ashamed to admit it, but it wasn't always clear to me just how problematic our current system of education funding is. On paper, the concept of communities funding their local schools seemed logical. Sorta. Kinda. I mean, it's the way it's always been, right? So it's gotta be done that way for some reason, right? Wrong and WRONG. Seriously, I'm embarrassed and ashamed that it took me so long to realize just how racist, classist, and generally unfair public education funding really is.
In case you were or are as naïve as I was, here's how public school funding generally works: students are divided into school districts across the U.S. based on geographic location. Public schools are funded through a mixture of local revenues (i.e. property taxes), state funding, and a small amount of federal funding. Depending on the state you live in, how school districts rely on property taxes varies, which can create huge disparities in the education that a child receives based on where they live.
On the surface, funding schools through local sources might seem to make sense – you go to school where you live and the community funds it (at least in part). In fact, there is even some rationale to the property tax funding approach. As noted on NPR, property taxes are among the most stable revenue sources. Because we aren't moving property tax revenue outside of the school district, what happens is that the schools in wealthier communities (which have more expensive homes and thereby greater property tax revenue) have more funds for the school.
In other words, the problem isn't using property taxes to fund education, per se; the problem is that those property taxes are confined to the arbitrary boundary lines of the school district.
"We've conflated this idea of local funding and local control of schools," Rebecca Sibilia, Founder and CEO, of EdBuild told NPR. "But what we need to do is start to separate those concepts. Just because you're running your own schools and governing your own schools doesn't necessarily mean that you get to keep all of your money."
As the New York Times points out, "Students are divided among a patchwork of 16,000 school districts, many of which were created to hoard resources in majority-white areas." According to the nonprofit group EdBuild, districts where more than 75% of students are white receive $23 billion more per year than districts where more than 75% of students are not white — even though there are more students in predominantly non-white districts.
These aren't just minor disparities either, but huge ones with far-reaching impacts. The Learning Policy Institute reports that "the highest-spending districts in the United States spend nearly 10 times more than the lowest-spending, with large differentials both across and within states. In most states, children who live in low-income neighborhoods attend the most under-resourced schools."
Obviously, none of this is fair. These disparities aren't just classist, they're racist too. And it all flies in the face of what public education is supposed to do – which is provide equal access to education for all kids.
"As a country, we inadvertently instituted a school finance system similar to red-lining in its negative impact," Jeff Raikes and Linda Darling-Harmmond wrote for Learning Policy Institute. "Grow up in a rich neighborhood with a large property tax base? You get well-funded public schools. Grow up in a poor neighborhood? The opposite is true."
For the past 20 or so years, public education has focused on trying to level the playing field, not through equitable funding, but through academic standards and student testing. (Spoiler alert: these measures haven't worked.)
Though critics claim that more equitable school funding is ineffective, research in recent years has shown that it really does improve education. The Learning Policy Institute points out that those states – such as Minnesota, New Jersey, and Massachusetts – and countries with more equitable school funding are among the highest achieving in the world.
Although the details of Biden's plan need to be fleshed out, public education experts are praising Biden's plan for its bold action to repair the damage caused by an inequitable school funding system. Zahava Stadler, a former policy director at EdBuild who currently works with The Education trust told the New York Times that the new funding in Biden's plan "wouldn't just add money where it's needed; it would also offer an important push for states to change the policies that create inequity in state and local funding."
Kudos to the Biden team for undertaking this monumental task, and its vision to create a more just and equitable society. While it might be an overwhelming task, we have to start somewhere. After all, as the NYT said, "The first step toward a more equitable funding system may be declaring that it's possible."