Biden Just Repealed One Of Trump's Major Anti-Abortion Policies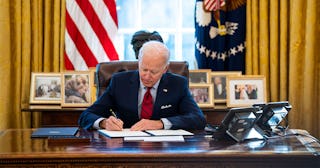 Doug Mills-Pool/Getty
Joe Biden is still undoing Trump's legacy. Next up: Repealing the anti-abortion global "gag rule"
Much of Joe Biden's time in office so far has been spent doing everything he can — as quickly as he can — to undo some of the worst parts of former President Donald Trump's legacy. From repealing the transgender military ban to forming a task force to work to reuniting separated immigrant children with their families, major strides have already been made toward that goal. The next Trump-era policy the new administration has taken aim against is one of the former president's most stringent anti-abortion measures.
On Thursday, Biden signed an executive order repealing the policy known as the "global gag rule." Essentially, it made it illegal for international healthcare organizations who receive support funding from the U.S. government to perform, facilitate, or even talk about abortion. That's right — the federal government was giving funding to organizations that provide reproductive healthcare, but banning them from even mentioning abortions to their patients. The real effect of that law is that organizations that provide comprehensive reproductive healthcare, including providing abortions or even just talking to their patients about the option, were unable to access federal funds that would have helped them make healthcare more accessible to more women.
"The best way to describe [the executive orders] is to undo the damage Trump has done," Biden said as he signed the repeal of the gag rule on Thursday. "The memorandum reverses my predecessor's attack on women's health access, as we continue to battle COVID-19 it's even more critical Americans have meaningful access to health care."
Alongside this order, the Biden administration announced that it plans to "take immediate action to consider whether to rescind" another Trump-era anti-abortion policy: the "domestic gag rule," which prevents U.S. organizations that receive Title X family planning funding from referring for or talking to their patients about abortion. That policy specifically targeted Planned Parenthood.
"For President Biden, this is personal," a statement from the White House said. "He believes that every American has a right to the peace of mind that comes with knowing they have access to affordable, quality health care."
The Biden administration has also released a statement recently committing to making Roe v. Wade into national law, which means even if the Supreme Court, which now has three Trump-appointed conservative judges, overturned the ruling, federal statute would mean abortion was still legal across the country. "The Biden-Harris Administration is committed to codifying Roe v. Wade and appointing judges that respect foundational precedents like Roe," the statement read in part.
Former President Trump was deeply committed to restricting access to comprehensive reproductive healthcare during his time in office, which emboldened state legislatures to introduce — and sometimes pass — laws that significantly blocked women's access. Experts say these moves by President Biden — especially so early in his term — likely show he's committed to completely undoing that part of Trump's legacy.