Biden Task Force Identifies 3,900+ Kids Separated From Families Under Trump
by Christina Marfice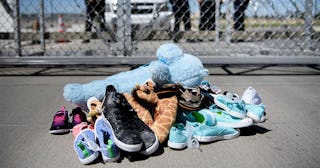 BRENDAN SMIALOWSKI/AFP/Getty
Donald Trump's zero-tolerance policy separated more than 3,900 immigrant children from their families. Now, a task force is trying to reunite them
The world watched in horror during Donald Trump's presidency as a zero-tolerance immigration policy resulted in children being separated from their parents and families at the country's southern border. Now, years later, a Biden task force is still working to undo the damage by identifying all the children and finding all their families.
The task force has so far identified 3,913 children who were separated from their parents at the border. Officials believe that number accounts for all cases, but it's hard to say because of poor recordkeeping. And now, a much harder job begins: Finding all those families and reuniting them.
"Children were unjustly ripped from the arms of their mothers and loved ones and forced to separate. It is no experience any family should have to live through," a senior Department of Homeland Security official told reporters. "Our efforts to reunify every family continue."
Still, those efforts are slow moving. In May, the government reunited just seven families. Currently, there are 29 more separated families the government is preparing to bring back together over the coming months.
Along with all the work done by non-governmental humanitarian groups to reunite separated immigrant families, that makes the total of families that have been brought back together 1,786 — though officials say there may be more than 2,000 families that have been reunited that they have been unable to independently confirm at this point. Efforts are complicated by the fact that there are no comprehensive tracking systems among all the governments that are involved in the effort. And we're now learning that Trump administration officials made rampant errors in these children's files, including wrong dates, wrong names, and duplicate cases.
The Biden task force has been carefully reviewing files to try to catch and fix those errors, as well as meeting with organizations that have already been working to reunite families, and representatives for families that have been through the process. They say they're trying to learn from past mistakes and create a better process for reuniting separated families.
"It's one thing to do these on an individual basis…And quite another when you try to build a system that will work for many, many more cases," the DHS official said. "We chose intentionally to start slow, so that we can go fast later."