Biden Repeals Trump's Horrifying Transgender Military Ban
by Julie Scagell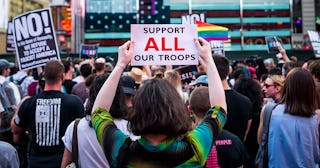 Michael Nigro/Pacific Press/LightRocket/Getty
The order immediately bans transgender servicemembers from being barred from service
President Biden has officially signed an executive order to overturn a ban on transgender people serving in the military. This fulfills a campaign promise Biden made in the early in his campaigning.
Biden revoked the Trump administration's ban on openly transgender individuals serving in the U.S. military, calling it "the right thing to do." Former President Donald Trump announced his decision to ban transgender people from serving in a tweet in 2017. "After consultation with my generals and military experts, please be advised that the United States government will not accept or allow transgender individuals to serve in any capacity in the U.S. military," Trump wrote on the platform he is now banned from.
"President Biden believes that gender identity should not be a bar to military service, and that America's strength is found in its diversity," the White House said in a fact sheet announcing its plans. "America is stronger, at home and around the world, when it is inclusive. The military is no exception. Allowing all qualified Americans to serve their country in uniform is better for the military and better for the country because an inclusive force is a more effective force. Simply put, it's the right thing to do and is in our national interest."
Under the Trump policy, a service member could be discharged based on a diagnosis of gender dysphoria if he or she is "unable or unwilling to adhere to all applicable standards, including the standards associated with his or her biological sex, or seeks transition to another gender."
Specifically, the order will: Fully repeal the two different orders Trump signed barring transgender individuals from military service; bar service members from being discharged or denied reenlistment effective immediately; and order both the secretary of defense and the secretary of homeland security to begin the process of allowing transgender service members to serve openly.
"I support the president's plan or plan to overturn the ban," newly confirmed defense secretary, retired Army Gen. Lloyd Austin told the Associated Press. "If you're fit and you're qualified to serve and you can maintain the standards, you should be allowed to serve." Austin will be the first Black person to hold the defense secretary title.
The decision is one of several Biden is working on to address equity issues in our country. Ahead of his inauguration, Biden's transition team shared a memo from White House Chief of Staff, Ron Klain, that explained his first weeks would be used "to advance equity and support communities of color and other underserved communities."
Biden has done just that. In addition to this order reversing the military ban, he's also signed orders to overturn a Trump administration Muslim travel ban, stopped construction of the wall at the U.S.-Mexico border, and launched an initiative to advance racial equity.