Biden Says US Will Have Enough COVID Vaccine Doses For All Adults By May
by Christina Marfice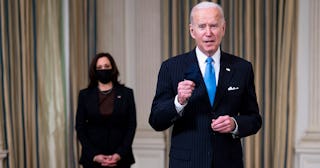 Doug Mills/Getty
Vaccine suppliers are working together to produce more doses, and will be able to make enough for all U.S. adults by May 31, according to the Biden Administration
Vaccine rollouts are continuing, and the U.S. is reaching positive milestone after positive milestone — nearly 10 percent of the country is fully vaccinated, 16 percent have received at least one dose, and cases and deaths are down almost everywhere in the country. And yesterday, the Biden Administration made a thrilling announcement: It has brokered deals with pharmaceutical companies to ensure that by the end of May, the country will have enough vaccine doses to cover every American adult.
"That's progress. Important progress," Biden said during a briefing at the White House.
This announcement comes just weeks after Biden said the U.S. would not have that many doses until at least the end of July. A few exciting developments in the past week have sped up the timeline: Johnson & Johnson's single-dose vaccine was granted emergency use authorization by the FDA, and Merck, a J&J competitor, brokered a deal to help produce more doses of that vaccine after its attempts to develop its own shot were unsuccessful.
In his announcement, Biden said that Johnson & Johnson is ramping up production, and will soon be running its manufacturing facilities 24/7. The company has promised to produce at least 20 million doses, which means 20 million more Americans will be able to be vaccinated.
The Biden Administration just increased weekly vaccine shipments from 14.5 million doses per week up to 15.2 million. Now that Johnson & Johnson's 2.8 million initial batch of doses is in the mix, 18 million will be distributed to states and territories this week. Biden announced that with that increase, his administration is urging states and territories to prioritize teachers, part of his plan to reopen schools across the country.
However, despite all this good news, the Biden Administration was adamant that it's not yet time for Americans to let their guard down. While the vaccine doses will be available by the end of May, it will likely take longer to distribute and administer them. And even after more people are vaccinated, wearing masks and staying socially distant will still be important for as long as COVID-19 keeps circulating — especially since no shot has yet been approved for use by kids.
"There is light at the end of the tunnel, but we cannot let our guard down now or assure that victory is inevitable," Biden said.