'Big Little Lies' Is Officially Coming Back For A 2nd Season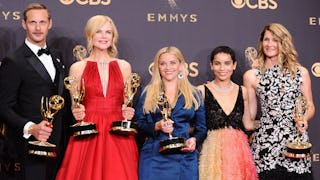 Image via Jason LaVeris/FilmMagic
This is not a drill: Big Little Lies is back
Big Little Lies is back, baby. The producers just announced the show will be returning for a second season and people are losing their collective minds over it.
After months of suspense, HBO announced that the Emmy Award winning show will be back in a tweet on Friday, December 8. "We are excited to announce that @RWitherspoon and Nicole Kidman will re-team to executive produce and star in the return of #BigLittleLies on HBO," it said.
Two of its biggest stars, Reece Witherspoon and Nicole Kidman have also signed on to join the seven episode series which is amazing but omg can they please make more than seven? I don't want to sound greedy here, but I'll have that polished off in one sitting.
"I'm thrilled to be bringing back this talented team of artists," Witherspoon said in article posted to HBO.com. "It gives us the opportunity to delve deeper into the lives of these intriguing and intricate Monterey families and bring more of their stories back to the audience who embraced and championed them."
David E. Kelley will also be back to write all of the episodes in the series based on the book by Liane Moriarty. The team also announced that Andrea Arnold (Wuthering Heights, American Honey) has signed on to direct and executive produce all seven episodes.
Fans are showing their appreciation of the announcement all over Twitter:
For those of you new to BLL (RUN, do not walk to buy her book), Moriarty's story is told through the eyes of a group of mothers of first-graders — Madeline, Celeste, Renata, Bonnie, and Jane — who explore societies obsession with perfection and how that impacts marriage, sex, parenting and friendships. It is told through humor and dramatic encounters, one of which ends in murder.
The series cast perfectly captures the essence of the book's characters and word on the street is producers may be introducing even more new characters to this season's line up, though nothing has been officially confirmed by HBO. Whatever they decide, fans are sure to be on the edge of their seats waiting for it's release.
"This is inspired by the overwhelming response by audiences around the world, conceived once again by Liane Moriarty, realized by David Kelley and now in the hands of visionary filmmaker Andrea Arnold," Kidman said. "What a journey this has been. I'm so grateful to have this opportunity to keep exploring these female characters and make this series with my friends."