The New, Official Trailer For 'Big Little Lies' Season 2 Looks VERY Juicy
by Thea Glassman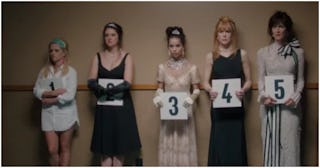 HBO
The new Big Little Lies trailer will have you counting down the days until its release in 3…2…1…
Welcome back to Monterey, everybody. Things are about to get really, really good. A new trailer for the upcoming season of Big Little Lies has been released and it's packed with intensity, mystery, and Meryl–freaking–Streep.
Turns out, Bonnie, Celeste, Jane, Renata, and Madeline are definitely not off the hook for Perry's murder. Not by a long shot. It's haunting all of them in a big way and Streep, who plays Perry's mother, is determined to get to the bottom of her son's death. Other things go down in the trailer like a cool 60's party, Renata doing a fancy photoshoot, and Jane cozying up with a special someone…
Get ready for all the thrills and chills:
Currently fiending for more? Can't wait until the show premieres on June 9? Here's a few more tidbits to keep you going. First off, the five women are a tight knit group now.
"It's thrilling for Renata to have any friends," Laura Dern told Entertainment Weekly. "You don't know how happy I was to go to work and have people to talk to." Zoë Kravitz added: "The dynamic is really interesting this season because…we are a group now. [But] watching us all do this dance together because of this lie that we all hold is really interesting to see."
We'll also see Jane's evolution, as she figures out her life after her abuser's death.
"In season 1 she had this idea of who this person was, [she had] this demon who haunted her constantly," Shailene Woodley said, per Harper's Bazaar. "It feels very exciting and good for me to be able to portray a character who has had extreme trauma in her life and work on the other end of that trauma…how does she move forward in a way that's healthy for her and her son?"
But there might still be some remainders of Perry in Season 2 because, according to a report from TV Line, he is "expected to return in some capacity."
While you wait a month to get answers, please enjoy pictures of all the actresses hanging out and enjoying lighter behind-the-scenes moments.
Impatiently waiting until June 9 hits. TV nights are about to get so, so much more interesting.