Having A Big Ol' Wedding During A Pandemic? You're An A**hole
by Rita Templeton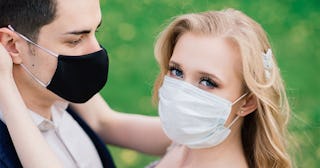 Ivan Zelenin/Getty
We know: You've been dreaming about your wedding day since you were a kid. You want to make a public declaration — nay, celebration — of your love. And there is nothing at all wrong with that. Everyone deserves to have the wedding of their dreams.
But if you're having the wedding of your dreams during a global pandemic, which could very easily turn it into someone else's nightmare? You're a selfish dick, and you don't deserve kudos for your cute little relationship when you're literally putting lives on the line so people can clap for it.
Think about the things that would make your wedding day a "disaster." A bird pooping on your fancy wedding clothes, for example, or the sky opening up into a record-setting downpour, or a spark from the candelabra lighting the whole damn carpet on fire. During normal times, yeah, those things would be disastrous.
But now let's talk about what can really make a wedding disastrous in these unprecedented times we're living in. Like your nuptials becoming a COVID superspreader event. Like hundreds of people becoming ill because of it. Like people dying from it — people who didn't even come to the wedding, but contracted COVID from someone who did.
If you think that's an unrealistic and alarmist scenario, consider this: it took a mere 62 people at a wedding in rural Maine last August — just 12 people over the state's official gathering limit of 50 — to eventually infect 177 people and leave eight of those people dead. This took place in Penobscot County, which was considered a low-risk area, virtually untouched by COVID previously.
Among that death toll were people like Theresa Dentremont, who had been largely secluded in a cabin with her husband Frank just to be safe. She barely had any contact with the outside world, but when she did, it was with a person who had been at the superspreader wedding. Frank contracted COVID as well, and battled through it only to live a life without his wife at his side. The Dentremonts' 26-year marriage was ended because someone else couldn't wait to start theirs. Unfortunately, theirs were far from the only lives gravely impacted by this event.
"What we are dealing with is a giant tube of glitter. You open a tube of glitter in your basement, then two weeks later you are in the attic and all you find is glitter and have no idea how it got there," Maine CDC Director Dr. Nirav Shah told The Boston Globe.
Lest you think this is a one-off — yeah, it's sad, but probably an isolated incident, right? — look no further than the tiny hamlet of Cutchogue, New York, where an October 17th wedding of fewer than 100 people also became a superspreader event. The New York Times reports that 27 guests, two employees, and one outside vendor contracted COVID from the "festivities," leaving 156 people under quarantine. In a subsequent news conference, New York Gov. Andrew Cuomo said that while at one time it was the large gatherings that posed the most threat, now it's the smaller gatherings like weddings and birthday parties.
Just because you're throttling it back a few dozen attendees and maybe not having the 300-guest wedding extravaganza of your fantasies doesn't mean you're being "cautious." Just because you're having it outside doesn't mean you're safe (I mean, we can't forget the superspreader event from the White House — that one took place in the Rose Garden). Just because you're planning on screening everybody's temperature doesn't mean that pre-symptomatic and asymptomatic cases won't slide through unnoticed and wreak havoc.
It's hard to wrap your head around the possibility of your wedding causing actual death. That aside, think about it in a more selfish context (because if you're planning on a pandemic wedding, selfish is exactly what you are): Is this how you'd want your wedding to be remembered? As a superspreader event? Do you want to be front and center in the news because you were the root cause of an outbreak of disease and death? What kind of an omen even is that for a new marriage?!
Your friends and family love you and want to celebrate your romantic partnership. But don't ask them to risk their lives, and the lives of countless other people, for an event that is literally unnecessary. At least hold off until you can be sure you're not sending home COVID as a reception favor.
If your love and commitment isn't strong enough to wait until gatherings like weddings are safe, then you're marrying the wrong damn person anyway.