Not Spending Enough Time With My Kids Is My Biggest Fear As A Working Mom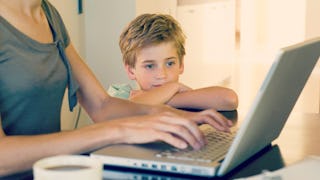 Jupiterimages / Getty
It took the unfiltered honesty of a 9-year-old boy to bring me down.
He didn't want to come with my teenage daughter and me on a much-anticipated (for her anyway) trip to the last day of the Victoria's Secret Bra and Panty Sale. It was one hour until store closing, the evening of another non-stop workday, hurriedly trying to satisfy the wish list for at least one of my kids.
To stay or to go? It would have been an easy choice if Dad were home. Unfortunately for Jacob, I didn't give him a choice. Dad was working late. His sister, Mallory, had waited long enough. One night this week at her brother's swim meet; the next night at his soccer practice.
"The sale ends tonight, Mom! You promised!"
Maybe it was the two days of waiting for Mallory, or being coerced into yet another forced march of "girl shopping" for Jacob. He wasn't grateful that I would save him the humiliation of actually having to go inside the "underwear store" by waiting outside with him while she picked out her cheekies and yoga shorts.
No, this trip was heading nowhere fast. Sniping broke out in the car on the way to the mall and I quickly had enough.
"Stop the arguing," I told them. "Jacob, tell Mallory you're sorry and say one thing you love about her."
Both kids quickly saw through this oft-repeated refrain. Of course, nothing was offered by either party. I foolishly decided to change it up.
"Ok, then. Tell me something you love about me. Then you can say something you love about Mallory and I'll say something I love about each of you."
I imagined the smiling parents and children I'd seen so many times in restaurants or at the stop lights. No conflict in that van with the cute stick figures of mom, dad, three kids and a dog adorning its back window. These folks could rattle off what they love about each other on cue.
Nothing. For the first time on the drive, Jacob fell silent.
"Really. You can't think of one thing you love about me?" I was joking… maybe. They might get mad at each other, but surely my kids would want to say something they love about me. Look at all the things I do for them. It's an hour before the sale ends and we're going. And he doesn't even have to go inside!
And then it happened. Jacob is a serious child. He takes questions seriously, and I had asked him a question he wasn't sure he knew how to answer. More silence, then a thoughtful response.
"I don't know what I love about you, Mom," he began. "You know, I really don't see you that much. I mean, you work all day and I only see you at night. Most of the time, we're with Alex (the summer nanny), or with Grandma (their after-school Godsend), or we're in school. I really don't know what to say."
If three or four blank pages could follow that statement to illustrate the stunned impact it had on me, I would put them here. I was in shock as if I had been in a head-on collision. I fought back tears as I drove on in silence. I couldn't speak. I couldn't try to laugh it off and change the subject. I was broken.
As a working mom, by necessity but also by choice, I know all too well the daily pleasure and pain of this life. I lean in with every ounce of my being: to my work, to my kids, and to all the extraordinary obligations, demands and sheer details that come along with the territory.
He can't say what he loves about me because he doesn't spend enough time with me. This thought laid open every wound I've fought so hard to heal. After all, I am the one who is a veteran of the working mom's struggle. Three kids (yes, Mallory and Jacob have an older brother, the one who broke us in). Full-time, high-demand job. Bearing my wounds because I know I'm providing for my children, making sure they are happy, active, and loved.
I tell new working moms still raw from the first separation not to worry. "Raising kids is a marathon," I've told them. "You will be with them many, many evenings, weekends, vacations and holidays. You're there every night while they sleep. Your bond with them will come from a lifetime of being there for them and they will love you just as much. They will respect you for your choice because you did it for them. Even if you made the choice for yourself too, you are giving them your best self and they will love you for it."
I want to believe my words as if they came from someone else. Someone who has been through it. Someone who has made it to the finish line. But I have a long way to go.
Hear what our real-life Scary Mommies, Keri and Ashley, have to say about this when they give their (always real) thoughts in this episode of our Scary Mommy Speaks podcast.
This article was originally published on