The Biggest Starbucks In The World Opened, And The Pictures Are Epic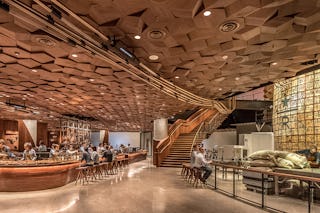 Image via Starbucks
Starbucks just answered every caffeinated prayer.
Hold onto your coffee cups, everybody. The biggest Starbucks in the world opened on December 6th, and it's pretty much one giant, caffeine-fueled wonderland. Everything runs XL at the new Shanghai location, which measures 30,000-square-feet and features an 88 foot long coffee bar. There are multiple drinking stations and plenty of obscure flavor offerings, including smoked butterscotch and vanilla bean breve. If that's not enough to make your coffee loving heart go pitter patter — there's more.
The whole thing is designed as a "multi-sensory coffee experience," according to the Starbucks press release, which means that visitors can hold their phones up to different parts of the store and learn more about it through an augmented reality app feature.
If coffee isn't really hitting the spot, there's also Italian pastries, beer, wine, spirits, and a 3-D printed tea bar. Not totally sure what a 3-D printed tea bar is, but you had me at Italian pastries.
If you maybe can't quite swing a last-minute flight to Shanghai right now, there's plenty of droolworthy pictures to go around.
It's kind of fitting that the world's largest Starbucks would open in China. Shanghai already has 600 (!) Starbucks altogether, which is more than any city in the world.
Also, there are 3,000 Starbucks across China altogether, according to Forbes, and a new store opens ever fifteen hours — which is just mathematically insane.
Don't despair though, Americans. The United States is quickly catching up with all this extravagant coffee madness. Starbucks plans to open a four-level Roastery in Chicago in 2019 which, Executive Chairman Howard Schultz told The Chicago Tribune, will be the "the Willy Wonka of coffee." Oh, and he also said that visitors can expect "theater and romance and something experiential."
So, basically, Starbucks might soon become our one stop shop for caffeine, entertainment, and romance(?), and I'm weirdly okay with that.