Bill Cosby Released From Prison As His Charges Are Overturned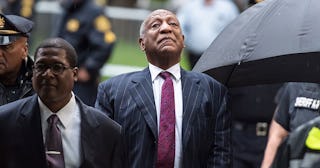 Gilbert Carrasquillo/Getty Images
Bill Cosby is being released from prison as his charges are overturned
The charges against Bill Cosby have been dropped by the Pennsylvania State Supreme Court and the 83-year-old former comedian and sex offender is set to be released from prison. According to the state Supreme Court's verdict, there were two main reasons why the state's highest court decided to throw out his conviction.
First, the court said that too many accusers testified at Cosby's trial.
Cosby had been accused of drugging and sexually assaulting pro basketball player and Temple University women's basketball team employee Andrea Constand at his Pennsylvania estate in 2004. Cosby was then arrested in 2015, literally days before the statute of limitations ran out. The jury didn't unanimously find him guilty, so at his retrial, the judge allowed the prosecutors to bring in five other accusers to testify at Cosby's retrial. To be clear, Cosby was not being charged with the crimes that the five other accusers alleged (only because they didn't press charges and statute of limitations stuff), but rather, these five other women were more there as character witnesses, to prove that Cosby has a history of drugging and then sexually assaulting or molesting women. Apparently, the court decided that you can't do that.
Additionally, the court decided to drop the charges because, per CNBC, Cosby "had an agreement with a former prosecutor that he would never be charged."
If your first reaction is, What in the Jeffrey Epstein shit is this? You are not alone. Years ago, when Constand first pressed charges, the District Attorney at the time decided NOT to prosecute Cosby. The DA claimed that there was no case because of lack of evidence and because Constand didn't go to police until a year after the assault, which we all know is the bullshit that police pull to shame victims, but I'm just listing the facts. Instead of prosecuting Cosby when Constand pressed charges, the DA told Constand to file a civil lawsuit against him, which resulted in a $3.8 million settlement. Because of this lawsuit, Cosby — apparently — had immunity from future criminal prosecution.
On Wednesday, the Pennsylvania State Supreme Court pointed to these items and declared that the charges against Cosby should be dropped.
Cosby has served more than two years of a 3-10-year sentence at a state prison near Philadelphia. In May, Cosby was denied parole after refusing to participate in sex offender programs. He said he refused to admit that he was guilty and would not participate in the treatment programs even if it means serving the full 10-year sentence.
It is unclear when, exactly, he'll be released from prison. Also unclear if he will have to register as a sex offender. Cosby was one of the first Hollywood predators to be charged in the #MeToo movement, proving to many that justice can, actually, be served. Today's reversal shows that justice isn't quite as easily won as we thought.