People Are Loving This Video Of Bill Nye Dancing To Lizzo At A Fashion Show
by Madison Vanderberg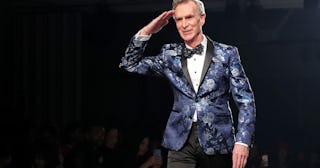 Rob Kim/Getty Images for The Blue Jacket Fashion Show
Bill Nye dances to Lizzo's "Juice" during a NYFW show
Bill Nye dancing to Lizzo's "Juice" during a New York Fashion Week is hands down, the highlight of our week. It was as if God looked down on the world, saw everything going on (coronavirus, impeachment trial, to name a few) and was just like, the world needs a win right now, here's Bill Nye dancing to Lizzo. You're welcome.
Taking a break from educating us on climate change, your favorite "Science Guy" lent his model-esque stature to the Blue Jacket Fashion Show on February 5, 2020 at the tail-end of New York Men's Fashion Week. The Blue Jacket Fashion Show is a fun charity show that benefits the Prostate Cancer Foundation with the hopes of raising awareness for men's health and prostate cancer detection and treatment.
Nye wore a stylish blue jacket by designer Nicholas Graham for the fourth annual fete alongside other cool dudes like Talking Heads frontman David Byrne and fashion icon André Leon Talle. However, ya boy Bill was the only one who knew how to bust a move.
During the finale walk, Nye danced his little heart out to Lizzo's "Juice" and thankfully someone on TikTok captured the moment, which has — not surprisingly — gone viral on Twitter and stolen everyone's hearts.
"Not his first time walking the runway," a fan on Twitter wrote. "He's done this a few times for the Blue Jacket Fashion Show benefitting prostate cancer. I love his spirit! This is the best thing on Twitter today."
Our favorite is: "America let's all write in @BillNye as Potus." No disrespect to the many qualified candidates running against Donald Trump, but yes. Very much yes.
He also showed off a slow-motion "running man" during another part of the show and YASSS Bill, go off!
Yes, Nye's dance moves stole the show, but it's his philanthropic heart that really does it for us. Nye revealed at the 2017 Blue Jacket Fashion Show that he participates in these fashion shows because his father passed away from prostate cancer, and if Nye's dance moves go viral and lead more men to get prostate checks, then he's done his job.
Unfortunately we may never know how Lizzo feels about the iconic Science teacher's dance moves to her music as she's taken a break from Twitter for her mental health, but as far as we're concerned, Nye doing the dad-shuffle to Lizzo's "Juice" and raising awareness about early prostate cancer detection is the feel good viral moment we needed right about now. Thanks Bill! And to the good people of the internet who have yet to watch the video, enjoy.