Bill O'Reilly Says He Won't Vote For Kamala And Twitter Gloriously Drags Him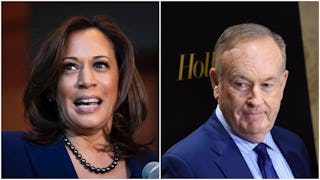 Image via Getty Images/Ilya S. Savenok / Stringer
O'Reilly says California senator Kamala Harris won't be getting his vote and Twitter is laughing
California senator Kamala Harris announced this week that she's tossing her hat in the ring for president, an announcement that's equal parts unsurprising and reason to celebrate. Unfortunately, one white man already decided he wasn't voting for her — and his name is Bill O'Reilly.
Yes, the very same Bill O'Reilly who was fired from Fox News for sexual harassment allegations and who paid off one of his accusers to the tune of $32 million. The New York Times reported that the giant payout "was at least the sixth agreement — and by far the largest — made by either Mr. O'Reilly or the company to settle harassment allegations against him."
But back to his tweet letting the public know in no uncertain terms he will not be voting for Kamala for president come 2020 in case anyone cares what this irrelevant old bat has to say. "She denied Brett Kavanaugh due process in front of the nation, and in so doing has lost my vote," he said in part. "I could not imagine any American for somebody who does not believe in due process."
Twitter was swift and hilariously fierce with their response to O'Reilly's comment since, you know, he's one of the most outspoken right-wing people out there:
https://twitter.com/jetpack/status/1087493384745426944
Others pointed out a small crack in O'Reilly's reasoning. Namely, Kavanaugh was applying for a job. There's no due process for answering what amounts to job interview questions last time anyone checked.
https://twitter.com/jetpack/status/1087490303164968960
Though she did check him a time or two during the eight minutes she had to grill him during that interview, namely over his stance on women's rights and their overall decisions when it comes to their bodies:
Hint: Zero
But it was Harris' communications director, Lily Adams, that had the most poetic response:
While others offered their "thoughts and prayers" to Harris, one Twitter user called it the most "unbreaking" of news.
Harris has been a senator for California since 2017 and before that, served as the 32nd Attorney General of California from 2011 to 2017. Her announcement was thrilling to many, and the timing — coming near the end of a three-day holiday weekend celebrating the Women's March and civil rights — was poetic.
"When I look at this moment in time, I know the American people deserve to have someone who is going to fight for them … and put them in front of self-interest," she said in an announcement on Martin Luther King Jr. Day.
Elizabeth Warren also announced her intention to form an exploratory committee to run and with a few other women in the pipeline including New York senator Kirsten Gillibrand, the 2020 Democratic nomination should be an exciting and historical one, to say the least.
Of course, it's doubtful O'Reilly will hand out his vote to any of these qualified women either because, vaginas. It's uncertain how they will ever manage without him.
This article was originally published on